Dallas — Wayne Simien, Keith Langford and Aaron Miles, who currently are in NBA camps, and sixth-man deluxe Michael Lee represented Kansas University at Big 12 Conference Media Day last October in Kansas City, Mo.
In the my-how-times-have-changed department, Christian Moody and Jeff Hawkins were KU's featured speakers at the 2005 Media Day held Wednesday in Dallas.
Yep, that's the same Moody who arrived at KU as an invited walk-on four years ago.
And it's the same Hawkins who reported on academic scholarship five years ago, his scholarship dependent on his agreeing to red-shirt his rookie season.
"Most people don't really know our names compared to last year's class," said Moody looking dapper decked in a deep green suit and slacks.
"Those guys played a lot of minutes. They were recruited and on scholarship," noted Hawkins, adorned in a lime-green jacket and slacks - "the color of money," as he called it. "Moody and I have been around all those guys. We can take a little from each and every one of them and teach the young guys greatness, what we learned from them."
Big 12 media members at the Harvey Hotel, which is a stone's throw from DFW International Airport, wanted to know a lot about KU's "young guys" Wednesday.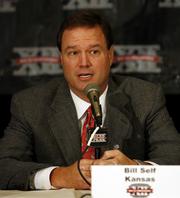 Though coach Bill Self was willing to discuss the newcomers, he refused to give short shrift to the fellows on hand, guys who just might snare starting berths.
"There's no question you play the guys you trust. After four practices, there's no doubt you trust the experienced guys," Self said. "It may not be that way a month from now. It's the way it is now."
Self said Hawkins and returning sophomore Russell Robinson had been the squad's two most impressive perimeter players during early workouts. Moody, meanwhile, is KU's only returning starter and the team's leading returning scorer at 5.8 points a game.
Self last week said Moody was being pushed by improved sophomore big men C.J. Giles and Sasha Kaun.
Wednesday, Self addressed the point-guard position and Hawkins' chance of beating out freshman Mario Chalmers and sophomore Robinson for the starting slot.
"Jeff Hawkins being successful takes the pressure off Mario," Self said. "He (Hawkins) is our best on-the-ball defender. He's shot it pretty consistently and makes his teammates better on offense right now.
"He came in a tough situation because he came in with Aaron (Miles). He has been Aaron's backup. He wants a chance to show he can play at a high level and impact the program."
Hawkins, who completed his degree in communications in May and has started work toward a second degree in American studies, confessed he was re-energized after re-committing himself to the team.
He nearly quit various times in a stormy career.
"I thought about leaving after my red-shirt sophomore year and a little bit last year after the suspension," revealed Hawkins, who started the 2004-05 campaign on suspension for violating team rules. "I talked to my family, my brother, and they said I was at the right place and should stick it out. I'm glad I did."
He also did some soul-searching at the conclusion of last season.
"I was going toward going down a level (to smaller college) or hanging my hat," he said of giving up hoops. "I had my degree in May, but I got my love of basketball back in my heart now. It was starting to fade away."
Renewed vigor came after a heart-to-heart talk with Self after the season-ending loss to Bucknell.
"He was on a mission to graduate," Self said. "After he did that, it was, 'Do I want to continue playing with all these young guys coming in? Will I get a chance?' He obviously can help this team."
That's not to say he'll play more than guys like freshman perimeter players Chalmers, Micah Downs, Brandon Rush and Julian Wright.
As Moody told the media Wednesday, those newcomers have talent.
"I'm wowed every day at practice at some of those things those guys do," Moody said.
Like what?
Like dunk.
Hawkins said the 6-foot-8 Wright put home a memorable dunk over Downs just the other day.
"It was sick," Hawkins said. "It's the best dunk I've seen since I've been at Kansas. Julian came in and looked like he could put up a little floater. Instead he went in and dunked one-handed, chest to chest. I'm sure Micah had a weird look on his face after he got dunked on like that."
"It was incredible," Moody chimed in. "Whoever he dunked on will remember it for a while."
Self likes the athletic plays of the freshmen as much as anybody, but insists they have ups and downs that conceivably could reduce playing time.
"All four have shown moments where you can say, 'Man, it's really going to kick in, and now they are on their way,'" Self said. "But two good days, one average day, one bad day : they are still freshmen and inexperienced.
"But what I've seen is they like each other. They share it. They don't have egos. They are talented, long, athletic. This could be a special bunch when the light comes on. We hope that'll be this year."
If the light doesn't come on, veterans like Moody and Hawkins will be around willing to eat up lots of playing time.
"It's great being a senior, going through it the last time," Hawkins said. "I think my (aching) back is even a lot better this year because my attitude is better."
"I think we can surprise some people and have a lot of success this season."
"We really have a great chance to have a really special season," Moody noted. "With the talent I've had a chance to be around this summer and at practice : if coach can put the team together, if everybody listens to what coach says, we really have a chance to be successful."
¢ Long day: KU's players hopped out of bed at 6 a.m. for an early charter flight to Dallas. The Jayhawks' session with the media ran from 9-11 a.m. No rest for the weary, as the team was scheduled to practice at 4 p.m. at Allen Fieldhouse with the first day off of the season set for today.
"This is fun," Moody said, not complaining about the media assignment.
"This is something I've looked forward to the last six months," quipped Self, always a popular interview. "It's fun to see other people in the league. I was giving Dora (Darryl, Texas Tech) the business. He made the three to beat us last year in Lubbock."
¢ Questions galore: Moody was asked what story he could relate about Self's antics at practice. "Instead of cussing, coach is good with little phrases. I like, 'Jiminy Christmas,' the best. I like that one.'''
Hawkins was asked if he talked any trash to the Missouri players at Media Day. "No, I like them. It's their fans that don't like us," Hawkins said. "I respect them as players."
¢ Jimmy V banquet today: Self today heads to New York for the Jimmy V. Classic banquet and media session to publicize the Dec. 6 doubleheader in New York. KU plays St. Joseph's at 6 p.m., with Michigan State and Boston College to follow about 8:30. It is a one-day event.
Copyright 2018 The Lawrence Journal-World. All rights reserved. This material may not be published, broadcast, rewritten or redistributed. We strive to uphold our values for every story published.