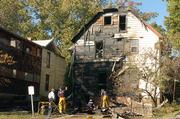 A two-alarm fire caused an estimated $100,000 in damage early Tuesday to a home converted to apartments at 1216 Tenn.
The fire was reported about 1:35 a.m. The cause was still under investigation Tuesday evening, Lawrence-Douglas County Fire & Medical officials said.
Five people who lived in the home were displaced and received emergency assistance Tuesday from the Red Cross. In addition, at least three cats and a dog were unaccounted for, residents said.
Elsewhere, another fire was reported about the same time in a vacant trailer at Gaslight Village, 1900 W. 31st St. Officials believe that fire was intentionally set.
Because both fires happened at virtually the same time, additional fire crews were called from Olathe and Lenexa for backup, interim Fire Chief Mark Bradford said.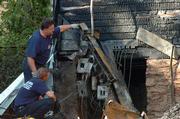 Copyright 2018 The Lawrence Journal-World. All rights reserved. This material may not be published, broadcast, rewritten or redistributed. We strive to uphold our values for every story published.