As Eli Greenbaum jumped out of the third-floor bedroom window of his smoke-filled apartment, he knew the blanket two police officers were holding below wasn't going to do much to break his fall.
"I weigh 210 pounds and I went through that thing like a meteor," the 31-year-old Kansas University graduate student said.
Greenbaum suffered multiple fractures to his heels and ankles from his third-story leap. But he escaped the flames of the massive Oct. 7 fire that killed three people and destroyed the 76-unit, block-long apartment building in the 500 block of Fireside Drive.
Moments before Greenbaum jumped, his girlfriend, Dawn Davis, of St. Louis, went out the same window. She suffered a broken back, along with ankle and wrist fractures, smoke inhalation and other injuries.
"I'm just happy to be alive," Greenbaum said Monday as he recalled his experiences the night of the fire. "We almost didn't make it. I really feel bad for the people who lost their lives."
'Out of control'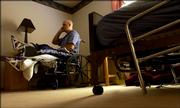 Greenbaum still doesn't know what woke him that morning, especially since he sleeps wearing earplugs. But when he pulled out the plugs, he heard banging noises and realized there was smoke in the room. He got out of bed and went into the front room, looked through the window and saw the night lighted by flames.
"I realized there was no way out the front," Greenbaum said.
Davis also woke and started looking for her dog, a Chihuahua, which didn't survive the fire. Greenbaum used his cell phone and called 911.
"I remember a lot of people screaming. It seemed like people were panicking. It was completely out of control," Greenbaum said.
He pushed out the screen in the back window and looked out at the parking lot, which he said was bright as day from the flames. He noticed some ladders that had been used for recent building maintenance work had been placed lengthwise against the back wall of the building.
"There was a guy in the parking lot facing the building and I was yelling at him to bring a ladder," Greenbaum said. "He said, 'I'm sorry, I broke my leg.'"
Greenbaum watched as his girlfriend climbed out the window, hung off the sill and then dropped to the ground. Police had arrived, and yelled for Greenbaum to throw his mattress out before jumping himself.
"The smoke and heat were really getting bad," Greenbaum said. "I didn't think I could get all the bedcovers off and I wasn't sure it would even fit through the window."
After he jumped, Greenbaum said police moved him and his girlfriend to a wooden fence behind the apartment building. They were then transported to Lawrence Memorial Hospital.
Road to recovery
Photo Gallery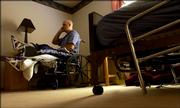 After the fire at Boardwalk Apartments
After initial treatment at LMH, Greenbaum and Davis were taken by ambulance to University of Kansas Hospital in Kansas City, Kan. Greenbaum was released Wednesday and now is staying at The Windsor of Lawrence, 3220 Peterson Road, an assisted living center.
Davis, a medical student at the University of Missouri-Kansas City, is now in a St. Louis hospital so she can be close to her mother, Greenbaum said. She wears a cast around her upper body but is recovering, he said.
Greenbaum will have surgery on his ankles Friday. A student in the KU Department of Ecology and Evolutionary Biology, he said he hoped to finish his dissertation and start a job as a researcher in a program at Villanova University near Philadelphia. That job will require him to travel to several countries in Africa and elsewhere.
Greenbaum doesn't know Jason Allen Rose, the 20-year-old Lawrence man who allegedly set the fire and who is charged with aggravated arson and three counts of first-degree murder.
If Rose is found guilty, he will get what he deserves, Greenbaum said.
"He is going to slowly go through the same feeling of panic, of being trapped and resigned to your fate that we all went through and that sort of gives me a warm fuzzy feeling," Greenbaum said of Rose.
"You go to bed thinking about work and you wake up and your whole life is upside down," he said.
Boardwalk Apartments Fire
More on the Boardwalk Apartments Fire
Copyright 2018 The Lawrence Journal-World. All rights reserved. This material may not be published, broadcast, rewritten or redistributed. We strive to uphold our values for every story published.