Kansas basketball coach Bill Self has worked his recruiting magic once again.
Self has landed a verbal commitment from Sherron Collins, a 5-11 point guard from Chicago's Crane High School.
The All-American, who averaged 25 points, 10 assists and eight rebounds last season for the Crane team that he led down state to Chicago's Elite Eight, has chosen Self's Jayhawks over Illinois and Iowa.
Collins said he was floored by last weekend's Late Night in the Phog at Allen Fieldhouse.
"I talked to him Sunday and he said he was ready to commit," Crane coach Anthony Longstreet said. "Sherron has committed to Kansas. He wanted to on his visit, I told him to sleep on it."
Collins told his hometown paper the Chicago Sun-Times he was thrilled with his choice.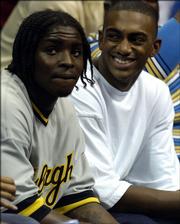 "I never knew people could be that crazy about a basketball team and its players," Collins told the Sun-Times. "Everybody from the coaches to the players and the fans went out of their way to make me feel important.''
Collins is rated the No. 4 point guard in the nation by rivals.
"I was ready to get it done right away, but Coach told me not to get caught up in the moment,'' Collins said. "He told me if I still feel this way (the next day) after I sleep on it, then do what I think is best for me. I slept on it and I still feel the same way.''
Collins' commitment gives KU one remaining scholarship in the Class of 2006. Brady Morningstar, a 6-3 guard from Free State High School, has already given a verbal commitment.
Copyright 2018 The Lawrence Journal-World. All rights reserved. This material may not be published, broadcast, rewritten or redistributed. We strive to uphold our values for every story published.