Thank heavens for the dog show.
The Lawrence Jayhawk Kennel Club's annual dog show will be the big event in town this weekend since Kansas University decided to move Saturday's home football game with Oklahoma University to Arrowhead Stadium in Kansas City, Mo.
The dog show is helping to fill hotel rooms, but area merchants are still unhappy about the money that won't be spent here by football fans.
"We are booked anyway, but I sure wish they would have kept the game here," said Kate Kelly, general manager of Lawrence's Best Western. "It is really good for the restaurants and the retailers. Oklahoma and Nebraska fans travel so well."
Business is expected to be up for at least one entity, though: the Kansas University Athletic Corp. Jim Marchiony, an associate athletic director with the department, wouldn't confirm speculation that the athletic department will pocket $3 million more than it would have if the game was played in Lawrence.
But Marchiony said it was no secret KU agreed to move the game, in large part, because it could be "very advantageous" financially.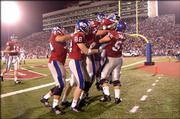 "But anybody who says it is all about the finances is mistaken," Marchiony said.
Marchiony said KU also moved the game as a gesture toward the 70,000 KU alumni in the Kansas City area and because it would give its athletes a chance to play in an NFL stadium, which was viewed as a good recruiting tool.
Marchiony said the department wasn't ready to say how much the game may make for KU athletics. Part of it still depends on ticket sales. Marchiony said Thursday afternoon that ticket sales were in the 47,000-range, which is less than the 50,071-seat capacity of KU's Memorial Stadium. It's also well short of Arrowhead's 79,409-person capacity. But Marchiony said he was optimistic that game day attendance would top 50,000.
Jennifer Hawley, manager at Stone Creek restaurant, said she was shocked ticket sales weren't higher because she figured KU officials moved the game because they were sure they could sell more tickets than they could at Memorial Stadium.
"I'm not sure how it is going to turn out, but I do know it probably won't turn out the best for the restaurants in town," Hawley said. "It is just a lot of people who won't be in town that would be otherwise."
Other merchants said with a little help from Mother Nature, business may not suffer much at all.
"In a lot of ways, a beautiful fall weekend will bring us a lot of business, football game or no," said Chuck Magerl, owner of Free State Brewery and Wheatfields Bakery. "And in some ways, with the blossoming of tailgating activity at KU, some of that business has migrated to the parking lots instead of the stores and restaurants."
There's some evidence the stakes could be high for area businesses. The Lawrence Convention and Visitors Bureau has previously estimated that a home football game pumps about $1 million into the city's economy.
That's why Lavern Squier, president and chief executive officer of the Lawrence Chamber of Commerce, said his organization would ask KU to approach the chamber before it made any decisions about moving future games outside Lawrence.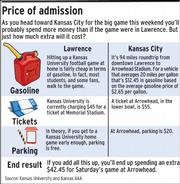 "We'll want to be in front of the curve next time," Squier said.
Marchiony said KU tried to be sensitive to Lawrence merchants by ensuring that there would still be six home games this season. He also urged merchants to believe that the Arrowhead game could strengthen KU's football program through the financial boost and the added exposure it provided the program.
"We understand that what is good for the long-term strength of the athletic program is good for the long-term strength of the community," Marchiony said.
Marchiony said no decision had been made about whether to play future home games outside Lawrence.
Arrowhead Stadium
Copyright 2018 The Lawrence Journal-World. All rights reserved. This material may not be published, broadcast, rewritten or redistributed. We strive to uphold our values for every story published.