Megan Novellano did her share to support the mozzarella and tomato sauce industries during her first three years of college.
She could have built a cottage out of the pizza boxes that were delivered to her door.
"I have Gumby's and Pizza Shuttle's numbers memorized," the Kansas University senior boasted.
After a while, that began to get expensive. So the Overland Park native ventured into a lesser-used room in her apartment - her kitchen.
That, too, had its drawbacks: It's tough to find time to cook when you're spending much of your day in class, and there's usually enough leftovers to feed a small army.
Novellano turned to the KU Culinary Club for help.
The club, in its first year, is quickly gaining popularity among KU students who want to move beyond the stereotypical college fare. It meets three Tuesday evenings a month, with members and guests teaching how to cook meals that have a student's time and pocketbook in mind.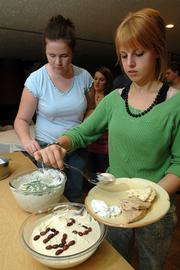 "That's the big thing - it takes work and money," said Don Gay, the group's president. "Most students are busy with school. You really have to have a passion for food to cook, to do a little extra."
The organization uses the kitchen at Ecumenical Christian Ministries, 1204 Oread Ave. Club members - about 30 come each week - pay $25 for a year or $3 a night to cover the cost of groceries. In exchange, they get to eat what's cooked during the class.
On a recent Tuesday, club members were taught how to cook a variety of Greek foods by club leaders and Mike Blumenfeld, a retired businessman and club adviser. The menu included several appetizers, gyros, hummus and baklava.
The cooking lesson was followed by a presentation on the history of Mediterranean food, including the fun fact that people living in the Ottoman empire thought the spices in baklava were an aphrodisiac.
Other nights focused on homemade pizza, desserts and sushi.
The club is part of a growing trend in the United States - people getting together on a regular basis to cook together.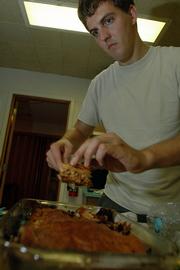 "I don't know exactly," Blumenfeld said, when asked why the clubs were catching on. "Whatever it is, being a foodie is a great hobby."
Club members offered varied reasons why they hadn't cooked more in the past.
Javier De Palacios, a junior from Bolivia, simply pleaded ignorance.
"I like cooking," he said. "My father taught me one or two things like barbecuing and small dishes. I want to learn about different plates and different types of cooking - things I don't know because I practice on my own."
Monica Kurz, a junior from Leavenworth, said she wanted to add variety to her diet but didn't know where to begin.
"It's very intimidating, trying to figure out what to buy at the store," she said.
Cassandra Leyden, a senior from Shawnee, said she didn't like eating the same food several days in a row - or throwing out food.
"I love cooking, but I always have so many leftovers," she said. "I want to find things that are simple and are friendly for a college student's budget."
And Rebecca Lafferty, a junior from Overland Park, said she didn't like the aftermath of a meal in her kitchen.
"I hate cleaning up," she said.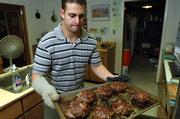 Gay, the club's president and a cook at Teller's, 746 Mass., said he's hoping the group can address all of those concerns about cooking while exposing students to new foods.
"We're doing things that look like they're fancy and intimidating, but they're not," he said. "We want to show with most cooking, it's not that tough. You just have to know a few tricks."
Culinary Club recipes
Two of the recipes recently prepared for the Kansas University Culinary Club's Mediterranean Night. Recipes are from "The Perivali Cookbook" by Holly Garrison.
Tzatziki
1 English or Canadian cucumber
(or 2 regular cucumbers)
1 teaspoon salt
2 cups thickened yogurt
1/4 cup red-wine vinegar
1 tablespoon extra-virgin olive oil
1 large garlic clove, pressed
1/2 teaspoon sugar
1/8 teaspoon white pepper
1/2 cup sour cream
1 1/2 tablespoon minced fresh dill
To make yogurt: Place up to 2 cups plain, whole-milk yogurt in center of 16-by-16-inch cheesecloth. Bring corners together and tie around long wooden spoon so that a pouch holding the yogurt is formed and hangs from the spoon. Suspend the pouch (using the spoon) above a bowl so pouch hangs freely. Refrigerate eight to 10 hours or until all juices are drained from the yogurt.
To make dip: Peel cucumbers and cut into 1/4-inch cubes. If using English or Canadian cucumbers, use entire cucumber. If using regular cucumbers, remove soft, seedy portion and use remaining, firm flesh. Place cubes in colander, sprinkle with salt and toss to combine. Refrigerate overnight. Pat dry cucumber cubes to remove as much moisture as possible. Gently stir in with thickened yogurt. Stir in vinegar, olive oil, garlic, sugar and pepper. Blend in sour cream and minced dill. Refrigerate two hours before serving. Makes 3 cups.
Taramosalata
8 ounces day-old bread
1 tablespoon chopped red onion
1 small clove garlic, chopped
1/4 cup tarama (salted cod roe)
2 tablespoons lemon juice
1 tablespoon white-wine vinegar
1/4 cup extra-virgin olive oil
1/4 cup vegetable oil
1/4 teaspoon sugar
Cut crust off bread. Place bread pieces in cool water and allow them to soak up water. Remove each piece and squeeze out as much water as possible. Set aside. Place onion, garlic, tarama, lemon juice and vinegar in food processor. Blend until completely smooth, scraping down sides so all of mixture is blended evenly. While processor is running, slowly add oils to form an emulsion. After emulsion forms, add bread pieces one at a time to running processor. Once bread pieces are blended, add sugar and continue to blend until mixture reaches consistency of softly whipped cream. Refrigerate two hours before serving. Makes two cups.
Copyright 2018 The Lawrence Journal-World. All rights reserved. This material may not be published, broadcast, rewritten or redistributed. We strive to uphold our values for every story published.