So you think you could use $240 million?
That's how much someone could win if they pick the right Powerball numbers for tonight's drawing.
And although some Lawrence convenience store managers say such a high Powerball jackpot always attracts extra buyers, there was no need for customers to fight for space at local cash registers.
"We've had a lot of sales, but most of them are at night," said Robbi Reddy, owner of Fast Lane Conoco, 1414 W. Sixth St.
Ruthie Bastain said Powerball sales were similar at Wood Oil Co., 920 N. Second St.
"We've sold a lot since Saturday, more than usual, but the biggest sales are at night."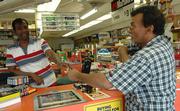 The $240 million jackpot carries a $117.7 million cash option, Kansas Lottery officials say. If somebody wins the jackpot, it would rank as the fifth largest in Powerball history and the ninth largest in the world.
A few ticket buyers were purchasing $20 and $30 worth of tickets, the managers said. Reddy recalled another jackpot once that was worth $360 million and also attracted a lot of attention.
"People came in and were buying $100 worth of tickets," he said.
Most buyers at Fast Lane are probably middle-aged or older, Reddy said.
A few Lawrence stores said they had not noticed any major increase in ticket sales.
The jackpot for tonight's Super Kansas Cash drawing is about $545,000. All Super Kansas Cash jackpots are paid in a lump sum.
Drawing tonight
Tickets cost $1. You have until 8:59 tonight to buy the tickets and the drawing will take place at 9:59 p.m. After the drawing, you can check the winning numbers by calling (800) 544-9467.
Copyright 2018 The Lawrence Journal-World. All rights reserved. This material may not be published, broadcast, rewritten or redistributed. We strive to uphold our values for every story published.