Kansas State University 1,020, Kansas University 738.
That score is impossible for a football game, but not when it comes to tallying sales of special university alumni vehicle license plates.
From January 2002 through August of this year, the state has issued more tags with K-State's purple Powercat than KU's Jayhawk, according to the Kansas Department of Revenue.
KU alumni, students and fans hate losing to their in-state foe, but alumni association officials from both universities downplayed the tag rivalry.
"We don't look at this as a competition," said Michael Davis, senior vice president of the KU Alumni Association. "We both look at it as doing what we can to gather large alumni bases and support higher education."
"We don't promote it," as a rivalry, said Brad Sidener, vice president of the K-State Alumni Association. "It's a way for each university to raise scholarship money."
The university plates replace the official Kansas vehicle tag. When renewed each year, vehicle owners pay an annual logo royalty fee of $50 per tag to the university's alumni association. That money goes to each university's scholarship fund. All other state universities and Ottawa and Baker universities offer the same program.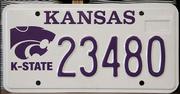 Both K-State and KU began their programs in 1996, but the state's only available comparison that included county results begins in 2002.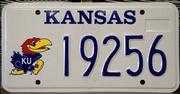 County-by-county results show some lines of support are drawn, while other communities are divided. KU leads Douglas County 131 to 13. K-State handily controls its home of Riley County 110 to 3.
K-State also prevails in Sedgwick, Shawnee, Saline, Finney and Ford counties.
Johnson County featured the highest concentration of plates for each university, with 246 KU tags and 196 for K-State.
"I'd say its about 60 to 40 percent in favor of K-State," back home, said Jessica Casey, a KU sophomore from Waldo in Russell County. "My home area is huge in agriculture. Even my dad went to K-State."
At 11 a.m. today, the state will be split again as KU and K-State play their 103rd football game in Manhattan.
"The plate program is great for both universities," said Davis, who earned his bachelor's degree from KU in 1986. "But in football Saturday, I think the Jayhawks will come out on top."
"Oh, of course I hope we win Saturday," said Sidener, a 1980 K-State graduate.
Copyright 2018 The Lawrence Journal-World. All rights reserved. This material may not be published, broadcast, rewritten or redistributed. We strive to uphold our values for every story published.