Olathe — Scott Penny couldn't know it at the time, but the Lawrence High senior linebacker was prescient.
"We came in at halftime," Penny recalled, "and I said it'll be decided by big plays. Then they made two big plays, and that's the game."
Devin Cummings' 57-yard touchdown run and Brady Croucher's 42-yard TD pass to Josh Spiek - both in the third quarter - carried Olathe South to a 14-0 win over the Lions in a battle of Sunflower League unbeatens Thursday night.
"Those two big plays killed us," Penny added.
The crowd at the Olathe District Activities Center barely had settled down after halftime homecoming ceremonies when Cummings broke the scoreless deadlock by scampering 57 yards on the second play following the Lions' kickoff.
Then, late in the quarter, minutes after LHS quarterback Brian Heere botched a handoff and the Falcons recovered, Croucher connected with Spiek, who bounced off defender Brandon Lassiter and raced into the end zone to complete the 42-yard play.
Take away the 99 yards of those two big Olathe South plays and the Falcons mustered just 134 yards of offense.
Photo Gallery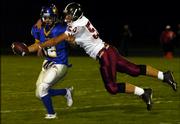 Lawrence High vs. Olathe South 09-30-05
"Defensively, we played our butts off," Lawrence High coach Dirk Wedd said. "Offensively, we weren't that far away."
The Lions may not have been that far away, but they never came close to breaking a big play.
Olathe South's stingy defense didn't allow the Lions a play longer than 15 yards, and both of those were pass plays. Lawrence High's longest run was an 11-yarder by Nolan Kellerman late in the fourth quarter.
The Lions, who came in with one of the Sunflower League's most potent rushing attacks, collected only 112 yards on 41 carries. That's an average of 2.7 yards per attempt - a number skewed only slightly by 19 yards lost via sacks.
Olathe South limited the Lions to a mere 168 yards of total offense.
"We were inept offensively," Wedd said. "We've got to be able to control the football and we couldn't. We didn't block. That's where it all went south. Up front."
Olathe South, of course, had a lot to do with the Lions' offense going south.
"They're a good football team," Wedd said. "But turnovers and penalties hurt us. You can't make mistakes and we made a bunch of them."
The Lions lost two fumbles and were whistled seven times for 65 penalty yards. O-South didn't lose a fumble and was penalized only three times for 25 yards. Croucher did throw an interception, however. Nathan Hickey picked the senior QB off in the end zone to blunt a third-quarter drive.
"We knew going in it would be a dogfight," Wedd said. "They're the No. 1 team in the state, but losing to them doesn't change our goal. Lawrence High's goal is always the state championship."
Thursday night's defeat prevented the Lions from earning at least a share of their first Sunflower League title since 1993.
"That would have been great," Penny said, "but we're more concerned about the state championship, and this didn't take away from that."
Lawrence High, 5-1, will begin district play a week from tonight against Washburn Rural at Haskell Stadium. If the Lions advance out of their district, they could meet Olathe South again - just like last year when the Falcons posted a pair of overtime wins over the Lions.
There was no overtime Thursday night.
"Are we hurting? Yes," Wedd said. "Are we disappointed? Yes. But now we have to win three district games."
Copyright 2018 The Lawrence Journal-World. All rights reserved. This material may not be published, broadcast, rewritten or redistributed. We strive to uphold our values for every story published.