Haskell Indian Nations University is a federal school. That means Monday is a mandatory holiday to honor Christopher Columbus.
But many there say an enforced day off to honor the man whose arrival led to death, disease and subjugation for innumerable American Indians is a stick in the eye. The school's staff members and roughly 1,000 students will be perhaps the single biggest group getting the day off for the holiday in the Lawrence area.
"What's ironic about it is that KU does have school," said Katrina McClure, 26, a member of the Muskogee Creek Nation who is taking classes at both Kansas University and Haskell this semester. "On a day that's really looked at as a sad day for indigenous people, we're forced to observe it."
Haskell President Karen Swisher said employees sometimes ask to swap the holiday for another day off, but she said she can't force anyone to go to work that day. Swisher said she isn't personally bothered by having to take the day off.
"It's a federal holiday. We are a federal institution," she said. "Each of us, in their own way, can do the protesting that we want within our limits and within our own convictions."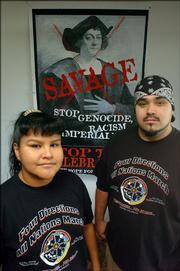 In past years, Haskell students and teachers have organized teach-ins or other events to mark the holiday. Student-body president Caleena Hernasy, a Navajo from Fort Defiance, Ariz., said that so far this year, no major event has been planned.
Hernasy said Columbus' legacy is one of the most frequently debated issues on campus, along with American Indian sports mascots and the future of the wetlands. But she said some students view it as just another day off.
Recent Haskell graduate Cricket Gates, 35, plans to drive to Denver today with her husband, Anthony Fernandes, to take part in an annual protest march this afternoon that coincides with a separate pro-Columbus parade.
"I just feel that people don't necessarily know the history, and they don't know exactly what they're celebrating," said Gates, who's now pursuing a master's degree in social work at KU. "They don't know who Columbus really is ... People need to know that with his following came disease, slaughter, stealing, raping, greed, and it was an interruption to our well-balanced societies."
Gates estimated that the vast majority of students at Haskell frown on Columbus' legacy, but during discussions "there's always one person that says 'we need to forget about this and just move on.'"
Lawrence resident Valentin Romero, 79, is a longtime member of the Knights of Columbus, a Catholic charity named in Columbus' honor. He said the group's main focus is on philanthropy - not on Columbus himself - but he still believes the explorer should be honored.
"He ought to be, simply because he was a navigator," Romero said, and because he brought Christianity to the continent.
"He was one of the first ones. That doesn't necessarily mean he was the bad guy," he said. "The ones that followed him were the ones that were really destructive."
But in Fernandes' view, Columbus came to the New World aiming to take other people's wealth.
He pointed to an excerpt from one of Columbus' journals written after he made contact with the Arawak Indians. The excerpt, cited in historian Howard Zinn's "A People's History of the United States, reads, "They would make fine servants ... With fifty men we could subjugate them all and make them do whatever we want."
Copyright 2018 The Lawrence Journal-World. All rights reserved. This material may not be published, broadcast, rewritten or redistributed. We strive to uphold our values for every story published.