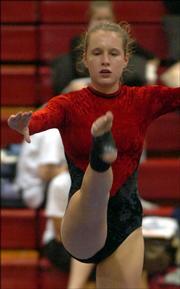 It was an all-around good night for Lawrence High gymnast Mallory West on Monday at Lawrence High.
West finished in the top three in all four events - and won the floor exercise - en route to winning the all-around title with 36.15 points.
"I was really happy with how I did tonight because the last few meets I haven't been doing as well as I had hoped," West said. "And tonight I had my best meet of the season, and I think I improved on all four of the events."
However, West said she was not satisfied with her beam routine, where she finished third.
Perry-Lecompton's Jennifer Pogge, on the other hand, won the beam and had Kathy Johnson, who coaches Pogge, as well as the FSHS and LHS squads, gushing.
"Her routine tonight was very, very pretty," Johnson said. "She deserved that first place."
With her first-place finish on the beam and a second-place finish on the bars, Pogge finished sixth in the all-around.
"I love the challenge of the beam. So when I get up there, I just want to overcome all challenges of beam. I try to be really confident, and it worked out for me," Pogge said. "I keep improving each meet, and I expect the same (results) for the rest of the season."
LHS gymnast Kara Kellison also showed improvement at the meet coming off an ankle sprain that sidelined her for the past week.
"I'm pretty happy with the performance," said Kellison, who was second on the floor and third in the all-around. "The fact (is) that I still have it in me to keep going after a week off."
Ameila Firns-Hubert was Free State's top gymnast, finishing fourth on the bars and 10th on the beam. She was 10th in the all-around with 34.7 points.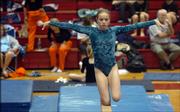 "It was better than last week," Firns-Hubert said about her performance on bars. "Probably one of my better (performances) this year, but I hope I do better at state."
Though the state meet isn't until Nov. 5, both teams are looking toward that season-ending event.
The LHS gymnasts realize that they have to progress constantly if they are to defend their state title.
"We've kind of had a slow start, but we're all kind of getting up there," West said. "We're just kind of slowly improving each meet, and hopefully by the time state comes we'll just be able to rock."
LHS and FSHS will travel a week from today to Shawnee Mission South.
"There's some new skills a few of them are still working on that they want to kind of use that meet as a sounding board to see how they do on them before regionals," Johnson said.
Copyright 2018 The Lawrence Journal-World. All rights reserved. This material may not be published, broadcast, rewritten or redistributed. We strive to uphold our values for every story published.