One of the North America's largest mammal collections is moving.
The Kansas University Natural History Museum is transferring its mammalogy division out of Dyche Hall on Mount Oread and into the old Printing Services building on west campus.
"We are growing and outgrowing the space we have on the main campus," said Leonard Krishtalka, the museum's director. "Down the road, probably more and more of our enterprise will be moving to west campus."
The move will give the mammalogy division more space in a building with greater ability for climate control, which is necessary for preserving the specimens. But some say the move also will make the collection less accessible.
"It would be pretty far for the students," said Ken Armitage, a professor emeritus in the division of biological sciences.
Photo Gallery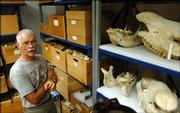 KU Natural History Museum
Krishtalka said other KU units seemed to function well on west campus.
The 170,000-specimen collection is one of the largest in North America and the second largest university collection behind the University of California-Berkeley, according to the museum.
The museum is also moving part of its insect collection and some of the skeleton collection of birds, amphibians, reptiles and fish. The museum already has moved most of the invertebrate fossils collection to west campus.
Krishtalka said the collections would begin the slow move in the spring, though a schedule has not been set.
The move of the mammalogy division will set off a domino effect. Much of entomology will move from Snow Hall into Dyche Hall. And the economics department will move into Snow Hall from Summerfield Hall.
The mammalogy division's move won't be easy, said Norman Slade, professor of ecology and evolutionary biology and a mammal curator at the museum.
The collection includes large pieces, like rhinoceros skulls, and tiny items, like the teeth of vampire bats.
"It's going to be staggering," Slade said. "Think of it as moving your nicest china. Actually, china is more durable than this."
Slade said such moves can tie up a collection for a year, but that he doesn't anticipate this move will take that long.
KU's Printing Services building
Copyright 2018 The Lawrence Journal-World. All rights reserved. This material may not be published, broadcast, rewritten or redistributed. We strive to uphold our values for every story published.