You can lead a horse to water.
Turns out you can lead him down a flight of stairs, too.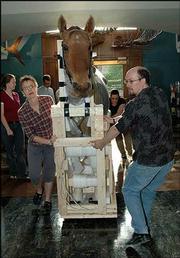 A crew from the Kansas University Natural History Museum proved that Friday morning as they escorted Comanche, the beloved stuffed horse, through a winding hallway and into a freight elevator to his new home.
"He had quite a ride," said Bruce Scherting, exhibits director for the museum.
The museum is moving Comanche -- who has a cult-like following as the only representative of the U.S. Army found alive after the Battle of Little Big Horn -- to its fourth floor to give it a better exhibit space. The move also will free up for traveling exhibits the museum's fifth floor, where Comanche has been for at least five decades.
After being nursed back to health from his wounds at Little Big Horn, Comanche spent the rest of his life performing ceremonial duties. He was stabled for several years at Fort Riley near Junction City.
Moving the horse, which has been dead 114 years, took months of planning. A graduate student even created a life-size model of Comanche out of foam board to make sure it could negotiate the turns.
In the end, a crew built a rolling cart for the horse, complete with braces around the legs.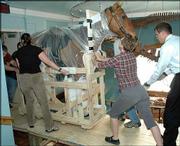 Comanche was draped in plastic for protection. The main concern was that the seams in the horse hide would crack.
"We didn't know how he was going to take it," said Kim Taylor, an exhibits assistant. "At one spot (getting into the elevator) he dropped a little bit. Most people don't realize he's in a fragile state. The joke was he might bust a gut."
A group of about eight people led the horse down a makeshift ramp that spanned several steps to get to the freight elevator. The only tense moment came when he proved too tall for a doorway while on the ramp, but a little tilting of the approximately 250-pound horse remedied that.
For now, the horse will be stored in an area near the fourth-floor diorama. A taxidermist will come in soon to restore the horse before it's moved again to the exhibit space, which will include better humidity and temperature controls, better lighting and photos, a video and other information about Comanche.
"Every day, we have people come in to see him from all over the world," Scherting said. "This will give him better visibility."
Copyright 2018 The Lawrence Journal-World. All rights reserved. This material may not be published, broadcast, rewritten or redistributed. We strive to uphold our values for every story published.