Mike and Jane Unrein sometimes get a lot of attention when they drive down a highway.
Especially when they are driving their 1915 Ford pickup truck.
"Everybody always likes it," Mike Unrein said of the renovated vehicle they purchased on eBay.
The old Ford was one of two vehicles the Topeka couple had on display at the Douglas County Antique Car Show on Sunday at the Douglas County 4-H Fairgrounds. The second car was a 1940 Bantam coup.
Nearly 140 vehicles were on display during the show, which this year put special emphasis on several 1955-1957 Chevrolet model cars.
"Each year we try to feature a different group of cars," said Ralph Reschke, president of the Lawrence Antique Auto Club, which organizes the annual show.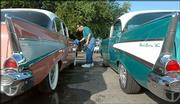 Elmer Lindell has been showing his Studebakers at the show for several years. This year, the Lawrence man chose to display a 1962 Studebaker and a 1956 Studebaker pickup truck.
"They were quite a car," said Lindell, a Lawrence resident and member of the Kaw Valley Studebaker Club. "They were easy to work on and they were fast. They could really go."
Some of those who attended the show came just to admire the old cars and some came to get ideas for fixing up old cars they have. John Roark, of Tonganoxie, was looking for ideas he might use on a 1955 Chevrolet he has been working on for the past year.
"It will be ready next year," he said.
Lawrence resident Rob Burk has been working for three years on a 1970 Buick Grand Sport. He also hopes to have it done next year.
"You don't see to many of them," he said.
Many of the younger visitors to the show were admiring the 1960s and 1970s "muscle cars" that were on display, Reschke said.
"The older people come out here to do a lot of reminiscing," he said.
Copyright 2017 The Lawrence Journal-World. All rights reserved. This material may not be published, broadcast, rewritten or redistributed. We strive to uphold our values for every story published.