Ryan Murphy was good, but Devin Cummings was better.
Cummings ran for 231 yards and four touchdowns as unbeaten and top-ranked Olathe South toppled Free State High, 30-12, in Sunflower League football Friday night at Memorial Stadium.
"He's good," Free State safety Brett Lisher said of Cummings. "He makes good cuts. He makes hard cuts."
Cummings, a senior listed at 5-foot-10 and 155 pounds, scored on runs of 65, 46, 23 and two yards.
"They have a big, experienced and athletic offensive line," Free State coach Bob Lisher said of the Falcons, "and Cummings doesn't need much. A little juke here, and he's gone. He's that good."
Cummings also caught a 32-yard screen pass from quarterback Brady Croucher that led to the Falcons' other score - a 24-yard field goal by Kyson Ginavan - and finished with 263 yards of offense.
But Free State quarterback Murphy was almost as good. The 5-10, 170-pound junior ran for 120 yards, including a 65-yard touchdown gallop, and passed for 127 yards, including a 69-yard TD strike to Ben Bell in the fourth quarter.
Photo Gallery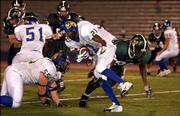 Free State vs. Olathe South 09-30-05
Murphy's 247 yards of total offense on homecoming pushed his output this season to 1,035 yards, tops in the Sunflower League.
Murphy also appeared to have scored on a 75-yard run midway through the third quarter, but an official ruled the Firebirds' speedster had grazed the right sideline at the Falcons' 41-yard line, and he had to settle for a 34-yard gain instead.
Curiously, that was the only call that went against the Firebirds all night.
Free State wasn't whistled for a single infraction. The Firebirds also were guilty of just one turnover - a botched pitch between Murphy and twin brother Brian that spoiled a golden scoring opportunity after Murphy's 42-yard pass to Nick Ayre had put Free State inside the Falcons' five-yard line.
Olathe South (5-0) had no giveaways and was saddled with only two penalties for 15 yards. The Falcons rang up 444 yards of offense while Free State (2-3) compiled a respectable 294 yards.
All in all, the Firebirds performed at a higher level than they had in last week's 52-7 humbling by Shawnee Mission West.
"It was better," Brett Lisher said, "but we still have to be more disciplined. Our offense was getting things done, but our defense isn't there yet. Their offense is real good, though."
Tony Bryant, the Falcons' other gamebreaker, gained 54 yards in 17 carries and caught three passes for 30 yards. O-South quarterback Brady Croucher added 114 passing yards and gained another 35 yards on the ground.
"I know we can be better," Free State coach Lisher said. "We're playing so many young guys, but for the most part we got better. We kept playing the whole game."
Friday's loss was the Firebirds' third in the last four weeks to a team ranked in the Top Five in Class 6A. All three of those teams are unbeaten at the mid-point of the season, and Olathe South, runner-up to Hutchinson in last year's Class 6A state-championship game, may be the best.
Photo Gallery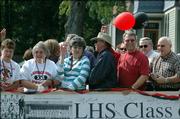 Homecoming parades 2005
Lawrence High and Free State High both held their homecoming parades on Friday, Sept. 29.
"There are times when you have to admit you're outmatched," Lisher said, "and we were outmatched tonight."
Olathe South's victory set the stage for a battle with Lawrence High, also unbeaten, Thursday night at the Olathe District Activities Center. The Lions were a 45-16 winner over Shawnee Mission South on Friday night at Haskell Stadium.
Lisher still has a date with Lawrence High on Oct. 21, so he didn't want to compare the Thursday night protagonists.
"Right now, all I'm worried about is Olathe Northwest," Lisher said.
Free State will meet O-Northwest on Friday at ODAC in a clash of teams with 2-3 records.
Copyright 2018 The Lawrence Journal-World. All rights reserved. This material may not be published, broadcast, rewritten or redistributed. We strive to uphold our values for every story published.