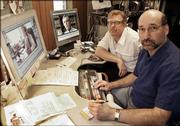 Austin, Texas — Michael Moore would be so jealous.
The Texas district attorney who brought the criminal case against House Majority Leader Tom DeLay gave a documentary film crew a chance to interview his staff during the investigation - proof, DeLay's defenders say, that the D.A. is trying to make headlines for himself.
"It proves that Ronnie Earle's determination to move ahead with a baseless case was scripted from day one," said Ben Porritt, DeLay's spokesman in Washington.
Independent filmmakers Mark Birnbaum and Jim Schermbeck said the Travis County district attorney and his staff gave them some interviews but did not give them access to any of the secret grand jury proceedings or let them witness any of the staff's deliberations in the DeLay investigation for their doc, "The Big Buy."
DeLay was charged earlier this week with conspiring to illegally funnel corporate campaign contributions to Republican candidates for the Texas Legislature. Texas law bans the use of corporate money for direct campaign expenditures.
The filmmakers rewrote the end of the film when DeLay was indicted.
"I think it's a more dramatic movie" with DeLay's indictment, Schermbeck said. "It makes it more historically important."
Copyright 2018 The Associated Press. All rights reserved. This material may not be published, broadcast, rewritten or redistributed. We strive to uphold our values for every story published.