After Lawrence High's football game against Shawnee Mission South on Friday night, Lions coach Dirk Wedd didn't sound like a coach whose team had just won, 45-16.
Photo Gallery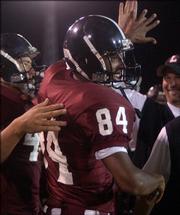 Lawrence High vs. Shawnee Mission South 09-30-05
"I thought we got outcoached, and I thought we got outplayed," Wedd said. "And that's a direct reflection on me."
Maybe, but LHS was not outscored in its homecoming game at Haskell Stadium, improving to 5-0 - its best start since 1993.
LHS put away SMS with big plays. Four of the Lions' touchdowns were from 60 yards or more, and only one touchdown drive took more than five plays.
After Nathan Hickey's 60-yard touchdown run during the first two minutes of the game, it was evident the LHS special teams had improved little since last week.
Kicker Abby Vestal knocked her first attempt wide left then missed two others, and another attempt was lost on a muffed hold.
"We got to get better at the snap, we got to get better at the hold, and we got to get better at the kick," Wedd said. "That's why we're going to practice, and we'll get better at it."
The second half for LHS was just as inconsistent, as two of its five drives were ended by fumbles on just the second play.
The Lions' two other drives in the half, though, resulted in touchdowns, again thanks to big plays. Nolan Kellerman ran the Lions to paydirt untouched on a first-play, 80-yard run.
"I'm going to give props to my O-line on that (run)," Kellerman said. "They opened up the biggest hole. Anyone could have fit through that hole. Anyone could have ran through that hole."
Brandon Lassiter hooked up with quarterback Brian Heere on a 70-yard pass for the Lions' final touchdown.
Photo Gallery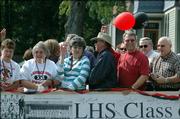 Homecoming parades 2005
Lawrence High and Free State High both held their homecoming parades on Friday, Sept. 29.
"The (offensive) line did great," Heere said. "We haven't had much experience with passing, and the line did really good."
Lassiter also had the longest touchdown for the Lions when he broke an 84-yard run early in the first quarter. Lassiter agreed with Wedd that the team made no strides improving, which the Lions must do with unbeaten Olathe South looming Thursday.
"Since we're playing (Olathe South), we need to improve on everything," Lassiter said. "We're just going to get better as a team. And we're going to be more focused this week with no homecoming or anything, so we're going to be ready for them and we're going to come off the ball every time."
Copyright 2018 The Lawrence Journal-World. All rights reserved. This material may not be published, broadcast, rewritten or redistributed. We strive to uphold our values for every story published.