Tami Gaines quit her job two years ago - not because she wanted to leave it, but because the side effects from the medications she takes to battle AIDS were so severe.
"Every day, there's something. It can be a headache, vomiting," said Gaines at a "Campaign to End AIDS" rally on Friday at Kansas University.
Gaines contracted HIV from her ex-husband and was diagnosed in 1991. In the first year after quitting her job, her family had $15,000 in medical bills.
"That's too much money for most people to have to pay," she said.
Gaines, a former Lawrence resident and KU graduate, said funding from the Ryan White CARE Act helped pay part of the bills. But advocates are concerned about continued funding for the program, which provides health care and other services for low-income people who have the virus that leads to AIDS.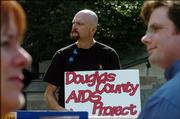 About 15 people attended Friday's rally that focused on the CARE Act, which is named for an Indiana boy who died of AIDS. Advocates said President Bush was proposing funding cuts to the CARE Act that would decrease emergency housing, financial assistance and food services to those with HIV/AIDS.
The hope is that Congress next week will reauthorize and fully fund the act, said Greg Mansfield, director of education and outreach for the Douglas County AIDS Project.
"People, many times, need the funding from the act in order to live," Mansfield said.
The Douglas County AIDS Project, which sponsored the rally, serves 84 people in Douglas County.
Other sponsors included the Center for Peer Health Education, KU's Sexuality Committee, International Pharmacy Student Federation, Student Union Activities, Queers & Allies, Students for Reproductive Rights, and the Light Center of Baldwin.
Copyright 2018 The Lawrence Journal-World. All rights reserved. This material may not be published, broadcast, rewritten or redistributed. We strive to uphold our values for every story published.