GRANTVILLE — Nearly two months after a flash flood chased Bruno and Rosie Balderrama from their home in a boat, a fading orange poster still hangs from their front door.
"FEMA: LIMITED ENTRY. Enter at your own risk! Do not occupy!
"Warning: This structure has been inspected under emergency conditions and may not be safe to enter due to serious structural damage. Entering this structure may result in death or injury."
Federal officials have been silent since, and of the sign, Rosie Balderrama said, "I don't know what to do with it."
And so it hangs on the now-occupied house in Grantville, one of many so adorned in the neighborhood overtaken by Muddy Creek on Oct. 2. A local inspection has deemed the Balderrama structure safe, so work continues to return the house to the home it was.
For two weeks, the couple stayed with family. During that time, relatives and friends joined them to tear up carpets, disinfect walls and haul off ruined keepsakes. Huge fans brought over by Bruno Balderrama's boss at Castle Property Management helped air out the residence.
Rosie Balderrama had one good cry, she said. That was the day they took her water-ruined car away. Her husband has been the one to shoulder the bulk of the load, physically and emotionally, she said.
"He's doing so much of the work," Rosie Balderrama said. "I help, but I don't have the manpower."
Added son-in-law Eric Miller, "It's been harder on him."
Help from others
Bruno Balderrama has spent a great deal of time cleaning up their property, which is home to 20 horses, including four miniatures, llamas, chickens and dogs. The miniature horses returned a few weeks ago, and the family planned to bring back the remaining horses earlier this month.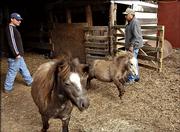 One llama and dozens of chickens were lost to the river. A neighbor recently saw a young cat resembling the one last seen climbing a tree to escape the floodwaters, lending hope that someone has taken it in.
The husband and wife differ on what to do next. Rosie Balderrama wants to stay in their home of eight years. Bruno Balderrama wants to build a house on a hill.
"He says it's going to happen again tomorrow," she said. "I think the chances of it happening again are slim to none."
A couple of days after their return home, a thunderstorm dumped 2 to 3 inches of rain, sending the couple to the front window every few minutes to check for rising water.
"We were both scared," Rosie Balderrama said. "We were just traumatized."
Almost all in the neighborhood were, she said, citing one woman who has been unable to work since the flood.
"Everybody I've talked to is pretty stressed," she said. "We're pretty stressed."
The Grantville United Methodist Church donated food, water and cleaning supplies. The Balderramas' church, Grace Bible Church in Topeka, took up a collection.
Rosie Balderrama's sister, Mary Velasquez, of Grantville, shared her home for two weeks. Rosie Balderrama said she called her sister on her cell phone from the boat rescuing them, adding, "It was so great to get off the boat, and she was there."
Better than most
Velasquez said her family lost its house in a 1993 fire. She is proud of the way the Balderramas have handled their misfortune.
"I think they've done marvelously," she said. "They were luckier than most."
The residents of Presbyterian Manor, where Rosie Balderrama has worked for seven years, have been a great source of strength.
"They say, 'Rosie, I say prayers for you every single night.' One of them said they cried when they saw the picture of our mailbox," Rosie Balderrama said.
The mailbox was pictured Oct. 3 on the front page of The Topeka Capital-Journal. The then-receding floodwaters reached the bottom of the freestanding mailbox.
Bruno and Rosie Balderrama had just enough time to move "precious pictures" to counters. Many other family mementos, such as cards, were lost. Much of their cleanup efforts have gone to ridding their home of the floodwater's stench.
"The smell. The smell has been really bad," Rosie Balderrama said.
Newfound closeness
While much work remains, Rosie Balderrama said she and her family had a lot to be grateful for. Insurance likely would pay for much of the repairs, she said, and no one was killed.
"Nobody we know died," she said. "Our friends are OK. We lost a lot, but we're OK."
Their two daughters and sons-in-law live nearby - Cacy and Russ Klumpp in Berryton, and Carrie and Eric Miller in Valley Falls.
Granddaughter Izahbella Klumpp will celebrate her first Christmas at home. Born on Dec. 20, a premature birth meant that she still was in the hospital during last year's holiday.
The Balderramas also appreciate a newfound closeness in their community of Grantville, about five miles east of Topeka. They felt close to their neighbors before, but the bond has deepened.
"You never really know them until something like this happens," Rosie Balderrama said. "You see them, wave to them, talk to them, but you never really know them. And now, you're really, really grateful to them. We watch out for each other now.
"You don't realize how great your friends are until something like this happens."
Rosie Balderrama's faith is strong, she said, adding: "I've been like, 'God had a lesson for us to learn. Don't take anything for granted. It can get taken away from you like that. Appreciate it now."'
Copyright 2018 The Associated Press. All rights reserved. This material may not be published, broadcast, rewritten or redistributed. We strive to uphold our values for every story published.