Charlene Kornbrust's motherly instinct kicked in this year.
The Lawrence knitter on Thursday brought 107 self-made double-knit caps to the Thanksgiving dinner at Lawrence Interdenominational Nutrition Kitchen, 221 W. 10th St. She gave all but 10 smaller hats away.
"You need to at least cover up your head because that's where all the heat goes out of your body," Kornbrust said.
On Thursday, Kornbrust walked into LINK and introduced herself as "The Hat Lady" to Dianne Morgan, a LINK coordinator.
"I didn't think anything about it until I saw how many hats she was giving away to people," Morgan said. "We were honored to ask her to stay for lunch."
The hats became a hot item. Many people quickly snatched them up as soon as she opened her bag, Kornbrust said.
Kornbrust said she liked being able to share her knitting talents with others who appreciated it.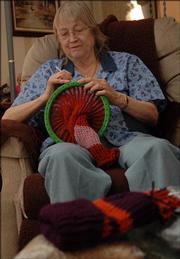 "It made my Thanksgiving anyway," she said. "I like to do what I'm able to do for the homeless and the poor."
She said she planned to donate the 10 remaining hats - and 40 others - to The Salvation Army.
Kornbrust said she also knitted hats for cancer patients and made 100 hats for babies in Africa this year. She plans to make covers for patients in wheelchairs, which will take more work and material than the hats, she said.
"It's a talent that I have, and I just need to share," Kornbrust said.
Kornbrust is unsure whether her knitting kick will continue next year. But she hopes that all of her gifts get put to good use.
"I hope the people that are using them are people that need to keep their heads warm," she said.
Copyright 2018 The Lawrence Journal-World. All rights reserved. This material may not be published, broadcast, rewritten or redistributed. We strive to uphold our values for every story published.