Lawrence surgeon Steve Segebrecht wanted to do more for a Kenyan orphanage and school after his medical mission there during two weeks in July when he saw 297 patients.
Many of his friends and co-workers answered the call.
A shipment of 89 boxes filled with textbooks, reference books and others left Lawrence on Tuesday for Maai Mahiu, Kenya.
Staff members at the Lawrence Surgery Center and people from Lawrence, the northeast Kansas area and Hays collected the books and raised money that will help build the first library for children in Maai Mahiu.
"You give people hope, and they begin to change," Segebrecht said.
The ear, nose and throat surgeon saw firsthand the conditions in the poverty-stricken town, which is northwest of Nairobi, Kenya. Many describe it as a stop on the "AIDS Highway" because it sits between Nairobi and Kampala, Uganda, and a large portion of its adult population is infected with HIV.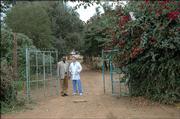 Most doctors on medical missions tend to spend their time in Kijabe, Kenya, because of the hospital there. No paved road connects Kijabe to Maai Mahiu, which makes it difficult to get much of anything to those who live there.
Segebrecht was told his two-week stay was the most a doctor had spent in Maai Mahiu.
The Maai Mahiu Children's Home can provide space for 140 children, and the organization Caring for the Children International has helped the community. However, because of limited funding, most of the effort by the orphanage director Paul Mwaneki goes into keeping the children fed properly.
When Segebrecht returned, staff at the surgery center almost immediately offered to help, he said.
"You just wanted to reach out to them and do whatever you could to help them. That's how everybody felt," said Leisa Erazmus, business manager for the surgery center.
Surgery center employees helped raise more than $800 to finish library construction.
Books came from school districts in Lawrence, Eudora, Perry-Lecompton and Hays. The Lawrence Public Library and local book dealers also donated, Segebrecht said. The Lawrence Paper Co. provided the boxes.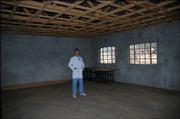 "It's like the anatomy of a mission project," Segebrecht said. "It's all of these different people coming forward to make this thing happen."
The doctor said the effort would mean a lot to the Maai Mahiu community.
"We're sharing what we have in abundance with people that don't have much," Segebrecht said.
The surgery center plans to ship more books periodically. Any books for donation can be dropped off at the center's second floor at 1112 W. Sixth St.
- 6News reporter Janet Reid contributed reporting to this article.
Copyright 2018 The Lawrence Journal-World. All rights reserved. This material may not be published, broadcast, rewritten or redistributed. We strive to uphold our values for every story published.