Kansas University coach Bill Self used all four freshmen on the court at the same time during a second-half stretch in which KU went on an 8-2 run.
Rookie Julian Wright said he didn't even notice the yearlings were in the game with C.J. Giles.
"We're all just out there trying to do what coach says," Wright indicated. "Coach is trying a lot of combinations. All he wants us to do is trust the system, talk on defense, do all the little things on defense to help us win games."
¢ Stats, facts: KU is 2-2 on the season, matching the record of the 2002-03 NCAA runner-up team. : KU is 7-5 all-time at the Maui Invitational, which is sponsored by EA Sports. : KU is 51-23 all-time in regular-season tournaments. : KU is 2-0 all-time versus Chaminade, also beating the Swords during the 1987-88 national-title season, when KU also went 1-2 here. : KU's 102 points were the team's most since scoring 102 versus UNC Asheville on Jan. 2, 2003, at Allen Fieldhouse. : The 48-point margin of victory was most since a 100-46 rout over UMKC on Jan. 4, 2003. : KU is 11-4 under Bill Self following a loss. : KU has made at least one three-pointer in 180 consecutive games. KU hit seven of 15 on Wednesday. : KU has held its opponent to under 100 points in 118 straight games. : KU outrebounded Chaminade, 50-27. Giles and Kaun had nine apiece, Downs seven, Brandon Rush and Wright six.
¢ Cramp talk: No Jayhawks suffered from cramps in their second and third games in balmy Hawaii. Jeff Hawkins cramped in the second half of a first-round loss to Arizona.
Photo Gallery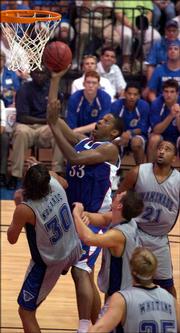 KU vs. Chaminade
KU team doctor Larry Magee discussed cramps with the Journal-World this week:
"A cramp is when a muscle gets hyperexcitable, caused by dehydration, fatigue, electrolyte imbalance. Things that make you cramp are poor diet, not enough electrolytes, carbohydrates, fluid loss, not enough energy for muscle," Magee said.
"It can depend on how hot, humid it is, how much exercising you've done. Some people are more prone to it. The reason you are more prone to it in Hawaii is it is hot and humid in the gyms (in spite of air conditioning), plus how long it takes to get here.
"The flights are long. There's dehydration, fatigue, sleep cycles are off. The longer you are here, the less likely you are to cramp, getting used to the environment."
The Jayhawk medical staff makes sure the players get enough fluid and salt and add electrolytes to the players' sports drinks. Players have been seen walking the beach with bottles of Gatorade in hand.
"We make them do it," Magee said.
Once a player like Hawkins gets cramps : "I think it's painful. I don't know if it's as painful as childbirth or kidney stones, but painful," Magee said.
One player from UConn and another from Maryland also cramped here. It was nothing like in 2001, when players were dropping in almost every game. KU's Nick Collison and Aaron Miles were most affected.
Copyright 2018 The Lawrence Journal-World. All rights reserved. This material may not be published, broadcast, rewritten or redistributed. We strive to uphold our values for every story published.