Don Bell hasn't had a chance to grieve.
He's tried to make an appointment with a counselor, he said, but he's been too busy - talking to detectives, getting his cheek swabbed for DNA and even taking a lie-detector test.
Bell is the husband of Robin Bell, the 44-year-old Tonganoxie woman found murdered Nov. 12 inside the Dollar General store in Bonner Springs where she worked as a manager. Police have followed more than 150 leads, but as of Tuesday did not have a suspect.
"Trying to sleep in that bed without her at night - really that's the hardest part," Don Bell said Tuesday, sitting on his couch and clutching a framed picture of his wife.
During the weekend, police questioned a 19-year-old former store employee who on Monday they termed a "person of interest." The man is charged with stealing money from the store earlier this year, but on Tuesday police said he was not a suspect in Bell's death.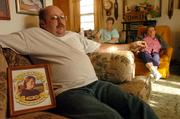 The theft charge "has nothing to do with the homicide," said Lt. George Collins, a Bonner Springs Police spokesman. "He was one of the many people we talked to."
The case initially was assigned to detectives with Kansas City's "Metro Squad" but has since been turned over to the Bonner Springs department. Collins said that as of Tuesday, there were still two detectives working on the case full-time.
The crime has some Leavenworth County residents on edge.
"It freaks me out," said Jenny McCutchen, an employee of the Dollar General in Tonganoxie who worked with Robin Bell briefly in September, when Bell was temporarily assigned there as a manager. "Security is a little tighter. It just makes people more aware."
The Bells had been for married nine years. Don Bell said he last saw Robin about 6 a.m. Nov. 11. He was leaving for his job as a security guard at Ameristar casino in Kansas City, Mo., and she was still sleeping. That evening, he talked to her briefly by phone, and she told him she might work late, he said.
"I woke up about 1:15 or 1:30. She wasn't in bed. I called the store. No answer," he said.
Bell said he drove to the store, where he saw her car and found the store locked. He then called 911, and when officers arrived, they found her inside the store, dead with severe head trauma.
Money was missing from the store, but Collins said police didn't yet know the exact amount.
Don Bell said he speaks with detectives almost every day. On Tuesday, he said, detectives asked him to come to the department and look through a phone book found in her purse.
"They wanted to know who everybody was," he said.
Bell said he took a polygraph test on Friday, during which police asked him "if I'm the one that hurt her, stuff like that," he said.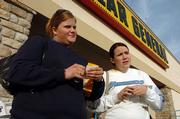 At one point during the interview, Bell said, police asked him whether he knew before being told by officers that the body inside the store was his wife's. He answered "no," and the machine indicated he was lying, he said.
He said it was an innocent mistake. He said he assumed his wife was the person inside the store because her car was there and she hadn't come home.
But he said detectives jumped on that mistake and began questioning him sharply.
"They hounded me like I knew something before she was killed," he said.
He said police tried to suggest the couple were having money problems and that he was mad at her because the couple didn't have the money to move out on their own from the Tonganoxie home where Robin Bell had lived since childhood.
He said officers also suggested he had made remarks to other people about wanting to collect on life insurance. He said that if he ever made a remark like that, it wasn't serious.
"You could give me $50 million," he said. "I'd rather have her back."
Copyright 2018 The Lawrence Journal-World. All rights reserved. This material may not be published, broadcast, rewritten or redistributed. We strive to uphold our values for every story published.