Ashley Robinson wasn't sure Kansas University was the right fit.
All it took was an official recruiting visit to Mount Oread - all of two miles from her family's home - to change her mind.
"I've always been worried about it," said the Free State High senior, who ceremonially signed a letter of intent Tuesday in the school library to join the KU swimming and diving team next fall.
"But, after my trip, it's pretty obvious it's different going to KU than living in Lawrence."
Robinson's official signing last week on the final day of the early signing period makes it two straight years a Free State swimmer - and an Ashley - has moved on to NCAA Division I competition. Ashley Jackson now is a freshman at the University of Louisville.
However, Robinson - the three-time defending state champ in the 500-meter freestyle - is the first swimmer from a city high school to continue her career at KU since her current coach, Jama Crady, made the jump from Lawrence High to the Jayhawks in 1994.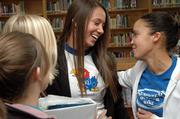 "I'm thrilled. We've all known that she has the potential," Crady said.
"Everybody's had their eye on her since, really, she was a pre-teen.
"The fact that she's going to stick around and go close to home is pretty exciting."
Robinson also took an official recruiting trip to Indiana and was considering another Big Ten school, Iowa. However, her visit to KU, coupled with an upswing that has the Jayhawks ranked No. 24 in the latest college swimming poll, convinced her to spend another four years in Lawrence.
"They're doing awesome. It's really exciting," Robinson said. "I'm looking forward to it next year."
She'll have the opportunity to help the Jayhawks in a variety of disciplines. While the longer freestyle events are her bread-and-butter, Robinson won the state title in the 100 butterfly as a sophomore and expects to expand her repertoire.
"I think we're also looking at IM (individual medley) and butterfly," Robinson said. "Try to mix it up a little bit."
Copyright 2018 The Lawrence Journal-World. All rights reserved. This material may not be published, broadcast, rewritten or redistributed. We strive to uphold our values for every story published.