Lahaina, Hawaii — Ever gracious in either defeat or victory, even Hall of Fame coach Lute Olson of Arizona couldn't find a way to sugarcoat it: His own team had as much to do with Kansas University getting back into the game as the Jayhawks did.
"We wanted to prove we can shoot that lousy and still win if we played good defense," Olson said, looking at a final box score that revealed Arizona shot 28 percent from the field. "We were much, much too impatient offensively. If you're that impatient, you're not going to shoot a good percentage. If you're taking the shot before you get two or three passes to move the defense, you're going to shoot a poor percentage. Every team wants to be the first team to prove that wrong, but no team ever will. It's always been that way."
Impatient can be a euphemism for selfish, and the Wildcats looked nothing if not selfish, repeatedly jacking shots early in the shot clock after riding their fullcourt pressure to a 20-4 lead.
KU outscored Arizona, 37-21, to catch up.
"At times, it was a lack of effort from us," Wildcats guard Mustafa Shakur said.
Praising the future of a young opponent that just played poorly against your team is the right thing to do, but Olson did appear sincere when he addressed the future of the green Jayhawks.
Photo Gallery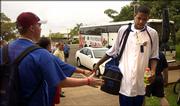 KU vs. Arizona
"What everyone has to remember is this a very, very young team," Olson said. "But I'm impressed with their guys. Inside, they're big-time jumpers, and they've got guards that know where the ball should go. They do a good job of getting the ball inside. (C.J.) Giles ... we did a great job on him tonight, but he's a load. He can shoot that thing. He reminds me a lot of Channing Frye. If he gets it out at 15 , 17 feet he's gonna shoot the ball really well. And the big guy, Sasha, is really, really tough. I told Bill (Self, KU coach) after the game, they're gonna be really good as they get some experience."
Late in the game, with the game in hand, Arizona returned to its selfish ways.
"Our clock management was awful," Olson said. "I didn't want them to stop being a aggressive, but I didn't want them to be stupidly aggressive, and they were."
Playing against such a young team, they were able to get away with that and other miscues.
Copyright 2018 The Lawrence Journal-World. All rights reserved. This material may not be published, broadcast, rewritten or redistributed. We strive to uphold our values for every story published.