Lawrence's Old Fashioned Christmas Parade returns for its 13th year on Dec. 3, and this year's event will be bigger than ever, organizers said.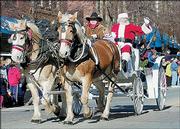 As of Monday, the owners of 125 wagons and carriages, along with equestrian groups, have signed up to be in the parade, said Jana Dobbs, spokeswoman for parade organizers.
"As far as we know, this is the largest," Dobbs said of the number of entries in the parade. The parade usually draws thousands to the downtown area to see the wagons and carriages decorated for Christmas.
"We've had a lot of calls from people from all over who are interested," Dobbs said. A notice about the parade has been placed on the CornerBank Web site (cornerbanks.com). This is the second year in a row the bank has been the primary sponsor of the parade.
In addition to CornerBank, more than 70 other businesses and organizations are sponsoring the parade. The sponsors help pay for the parade and provide breakfast and lunch for the entrants.
To enter or be a sponsor, call the bank at 838-9400.
Copyright 2018 The Lawrence Journal-World. All rights reserved. This material may not be published, broadcast, rewritten or redistributed. We strive to uphold our values for every story published.