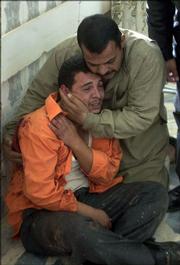 Baghdad, Iraq — The U.S. military on Monday ordered an investigation into why American forces had opened fire on a family that was traveling to a funeral in Diyala province, about 37 miles north of Baghdad.
Four people, including two children, were killed and five were wounded, Iraqi police said. Two children and a woman were among the wounded.
American officials put the number of dead at three. The reason for the discrepancy was unclear.
Monday's shooting incident was the latest in a series of encounters in which American soldiers have killed Iraqi civilians, and it inflamed Iraqi emotions. U.S. officials have declined to say how many civilians American forces have killed.
Images of the limp bodies of two dead children in the morgue in Baqouba, north of the capital, were broadcast throughout the day on Arabic satellite television. The televised images included men screaming that the gunfire had decapitated one of the children.
Maj. Tim Keefe said U.S. officials were investigating to determine whether American troops had used excessive force in the incident.
According to police accounts of the shootings, a van that was carrying the family failed to slow as it approached a U.S. convoy on a narrow two-lane road. After warning the vehicle to slow down, the soldiers opened fire, said Ali al-Khayam of the Diyala police.
Copyright 2018 The Lawrence Journal-World. All rights reserved. This material may not be published, broadcast, rewritten or redistributed. We strive to uphold our values for every story published.