Lahaina, Hawaii — The temptation is to look at Kansas University's worst scoring output in a dozen years and draw the conclusion the team doesn't have enough scorers.
Wrong.
You can't score if you can't get the ball past halfcourt, and that, more than anything, was at the heart of a 61-49 loss to Arizona on Monday night in a Maui Classic first-round game at Lahaina Civic Center.
By the time KU got off its first shot it had turned over the ball three times and fallen behind, 7-0. With Arizona leading 11-2, KU already had six turnovers, and C.J. Giles had missed a dunk.
Panic had set in.
Many of the players looked as if they never had seen what confronted them, and there was a good reason for that. They hadn't ever seen anything like it.
"We can't simulate Arizona's speed in practice," KU coach Bill Self said after the Jayhawks committed a whopping 27 turnovers.
The most damaging came late.
Photo Gallery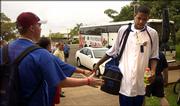 KU vs. Arizona
While Jeff Hawkins was forced to the bench because of cramps, freshman guard Mario Chalmers committed turnovers on consecutive second-half possessions, and a three-point deficit quickly turned into an 11-point deficit.
Hawkins and Russell Robinson have done their best in practice to simulate the kind of pressure freshmen never have faced, but they could only do so much.
In building a 20-4 lead that vanished when KU tied it 41-all, Arizona applied full-court pressure that created the illusion it had seven long-armed, quick bodies on the floor instead of five.
Chalmers, who turned the ball over seven times in 17 minutes, was too aggressive in trying to beat the pressure. Anchorage, Alaska, never seemed so far away.
Hawkins (five turnovers) at times wasn't aggressive enough. Robinson had troubles.
Chalmers, Hawkins and Robinson combined for 13 points, seven assists and 15 turnovers.
Here's guessing that if in March of 2009 on senior night someone asks Chalmers to look back on the worst game of his college career, he'll talk about the Arizona game of his freshman year, the night he looked very much like a freshman.
The guards weren't the lone culprits. Center Sasha Kaun (12 points, six rebounds) played well when he played, but didn't play enough because he couldn't stay out of foul trouble. His fifth foul came in his 22nd minute.
Giles, too, battled foul trouble, played 27 minutes, and didn't play all that well, making one of six field goals. He came to the game later than most players at big-time programs, and for most of the night it looked that way, though the second assist of his career was a beauty. His bounce pass to Brandon Rush (11 points, seven boards) cutting back door for a jam was on the money.
On this night, Kaun and Rush were the team's best players. Take them away, and the rest of the team made nine of 35 field-goal attempts.
That still doesn't mean the Jayhawks don't have enough capable scorers. In time, they'll have no fewer than five capable scorers in Rush, Micah Downs, Chalmers, Kaun and Giles.
It won't matter how many scorers they have if they can't bring the ball up the floor without turning it over. With another tough test awaiting them today, we'll see how they rate as quick learners.
Copyright 2018 The Lawrence Journal-World. All rights reserved. This material may not be published, broadcast, rewritten or redistributed. We strive to uphold our values for every story published.