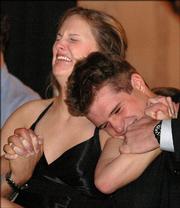 The cast is set for the 2006 Rock Chalk Revue, with the theme of "Breaking Through." The fraternities and sororities chosen Monday to participate in the event are Sigma Chi, Pi Beta Phi, Delta Upsilon, Kappa Kappa Gamma, Phi Kappa Psi, Delta Gamma, Beta Theta Pi, Kappa Alpha Theta, Phi Delta Theta and Chi Omega.
Above, Delta Gamma sophomore Michelle Gates and Phi Kappa Psi junior Jeff Baumert try to contain themselves as their team was announced to be part of the revue.
Tickets are available through Student Union Activities for the second and third weekends in March. Organizers hope to raise $50,000 this year for the United Way, which is well above the $24,000 in proceeds the event brought in last year.
Copyright 2018 The Lawrence Journal-World. All rights reserved. This material may not be published, broadcast, rewritten or redistributed. We strive to uphold our values for every story published.