Topeka — In the past 40 years a lot has changed in Kansas. Highways and intersections are busier, many new residential areas don't have sidewalks and some neighborhoods simply aren't as safe. That can be a problem for children walking to and from school.
State law dictating how far a student must live from school in order to ride the bus, however, has not kept up with the times.
In the 1960s, the Kansas Legislature decided students who lived within two and a half miles of school were close enough to walk, and therefore the state was not required to pay the cost of busing them.
But schools administrators say in today's world, walking is not always a safe option. Rick Gammill, the director of special operations for Lawrence public schools, agreed it's time for the state to make a change.
"I think it would be great for the district and certainly for the parents in the district because in a city like Lawrence you've always got streets that are a concern from a safety standpoint," Gammill said.
In the meantime, the Lawrence school board has come up with its own solution. The district has lowered the distance for its younger students.
For elementary students who live a mile and a half away, and junior high students who live two miles away, the district pays for transportation to and from school out of its own budget with no reimbursement from the state.
This means less money for other areas in the budget, especially, Gammill said, as the cost of transportation rises.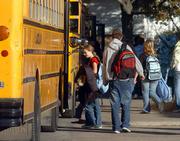 "When you look at gas and diesel prices and how much they've gone up, it's certainly a concern for the budget of most school districts," he said.
Last week, the state 2010 Commission, which is looking at ways to improve schools, heard testimony from other area school officials who hope to see the distance lowered in the next legislative session.
Rob Little, superintendent of the Jefferson West school district in Meriden, spoke at the meeting in favor of lowering the distance requirement for the sake of student safety.
"The heavy traffic simply does not allow safe passage as might have been the case for their parents when they attended school. Traffic is very congested and is at its most dangerous during the school commuting hours," Little said.
Rochelle Chronister, chairwoman of the 2010 Commission, said the panel would consider changes because of the traffic safety issues and concerns about children walking through high-crime neighborhoods.
Copyright 2018 The Lawrence Journal-World. All rights reserved. This material may not be published, broadcast, rewritten or redistributed. We strive to uphold our values for every story published.