Once the game ended and fans filed out of Allen Fieldhouse, three Idaho State basketball players posed for a photograph at center court, the gigantic Jayhawk surrounding their smiles as a mother counted "1-2-3" from the sixth row.
As businesslike as the Bengals acted on the court in a 90-66 loss to Kansas University on Friday, there was no need to try to play it off: This was no ordinary game for Idaho State, a low-level Division I team from a little town called Pocatello.
"For a lot of us, this is the first big stage we've played on," guard David Schroeder said. "That's an experience in itself."
And Idaho State -- picked to finish last in the Big Sky Conference -- is leaving engulfed in positive thoughts.
Though Kansas pulled away early with sharp perimeter defense -- credit Russell Robinson and Mario Chalmers -- and a physical advantage the Bengals couldn't match -- credit genetics -- Idaho State fought throughout, slicing a second-half deficit from 22 points to 13 midway through before the Jayhawks again went on an overwhelming run.
Photo Gallery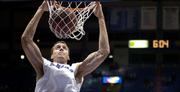 KU vs. Idaho State
"I don't know that league inside and out, but if they're picked to finish as low as I heard they are, it's not smart picking." KU coach Bill Self said, before jabbing "it's probably the media."
As Self expected, three players carried the Bengals in the face of the size disadvantage and hostile environment to keep Idaho State scrapping: Schroeder, who had 15 points and six rebounds before fouling out; Tim Henry, who drilled five three-pointers and finished with 23 points; and Antoine "Slim" Millien, who tallied 22 points, 10 rebounds and four blocks despite being four inches shorter than post opponents Sasha Kaun and C.J. Giles.
Millien stands 6-foot-7, but it wasn't easy to tell.
"Take off his shoes, he's 6-6," Bengals coach Doug Oliver said. "I thought Slim did a nice job. He got a little anxious a couple of times, but once you make one or two, you might as well put another one up because good things were happening."
Anxiety is something seemingly every small school faces when coming into Allen Fieldhouse. Idaho State was no exception.
Difference was, the Bengals found very little to mope about as they left the old barn Friday, with nonconference opponents like Great Falls, Utah Valley State and North Dakota State upcoming.
The players even had several smiles left over for some photographic memories.
"We competed with Kansas, giving our all," Millien said, "but the better team came out on top."
Copyright 2018 The Lawrence Journal-World. All rights reserved. This material may not be published, broadcast, rewritten or redistributed. We strive to uphold our values for every story published.