It might have been tough to watch as a Lawrence High Lion.
Immediately following Olathe East's 22-18 victory Friday night in the Class 6A state football playoffs, the Hawks' student section celebrated by jumping up and down on the field. Quarterback Derek Miller couldn't stop the tears. Wide receiver Adam Parks couldn't hold himself back from being the first to grab the trophy.
It might have stung for the Lions. It might have seemed excessive.
But, really, it was all because Olathe East players never had worked so hard to get a victory all season.
"I'm even crying," Parks said. "It was just one hell of a game. Lawrence is by far the best team we've played this year. By far."
The undefeated Hawks left Haskell Stadium with a victory and a berth in Saturday's 6A state championship game. But they also left with a new respect for the Lions, who posed the greatest challenge in the team's 12-game schedule.
"It was the toughest game all year, no doubt," Miller said. "They are the hardest-hitting team we've played all year. They're solid all around, and they had some amazing plays. You can't say enough about them."
Photo Gallery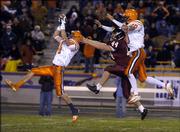 Lawrence High vs. Olathe East 11-18-05
For a while, it looked as if Lawrence might run away with the game. After two drives, LHS led 12-0 and put East in one of its deepest holes of the season.
"We responded with that first score, or this could have been a long night," East coach Jeff Meyers said. "Lawrence played great. We knew they were going to play that physical-type football. We struggled with some of that on the run."
After faltering consecutive years in the playoffs just before reaching the championship game, Olathe East was able to overcome the deficit and fight through adversity where previous teams might have faltered.
"We've been through this so many times," Miller said. "Two years in a row, we've been down. We know what it's like, and I think now we know how to fight back."
Parks, who had 139 receiving yards, two touchdowns and an interception of his own, remained in awe after the game of the Lions' tenacious running backs.
"(Nolan) Kellerman is a beast," Parks said. "I thought I was a hard hitter, and I couldn't even bring him down. I should have had three or four tackles for losses, and he and that No. 31 (Matt Stiles) were just keying on me all night. I'd dive, and they'd stiff-arm me or run over me."
In their final games for Lawrence High, Kellerman finished with 29 carries for 190 yards, and Stiles racked up 30 yards on 13 attempts.
Though it might have been tough for them to watch the festivities afterwards, the LHS seniors at least could leave knowing they were the only ones to give East a reason to celebrate.
Lawrence had made East earn its place in the state championship.
"If they were in any other district or any other class, I'm sure they'd win state," Parks said of the Lions. "They are just one of the best teams - and the best team we've played this year."
Copyright 2018 The Lawrence Journal-World. All rights reserved. This material may not be published, broadcast, rewritten or redistributed. We strive to uphold our values for every story published.