Kansas University basketball fans who hoped for a faster-paced Jayhawks team this season got what they wanted in Friday night's season opener at Allen Fieldhouse.
The pace came from the place where coach Bill Self has maintained it must come from if KU is going to run.
In a word, defense.
The Jayhawks played such tight, harassing defense in the opening 20 minutes of the 90-66 victory over Idaho State that the visiting Bengals committed 18 turnovers by intermission.
Nobody was more responsible for that figure than senior point guard Jeff Hawkins, who hasn't been pushed out of the starting lineup by gifted freshman Mario Chalmers just yet.
"In my opinion, you cut the head off, the body will follow," Self said. "That's kind of a mind-set. Not that you can totally take anybody out, keep them completely scoreless, but you can disrupt offenses by pressuring the point guard and still making the offense initiate higher on the floor, outside the scoring area. It all starts with the point guard, and I thought Hawk was very good. There's no question he's our best on-the-ball defender."
Photo Gallery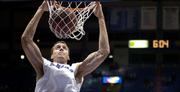 KU vs. Idaho State
With so many new faces on the team and so little overall experience, a common question coming into the season centered on which players would become the team leaders. For openers, it looked as if Hawkins was the team leader defensively and Chalmers, a better penetrator, scorer and passer, was the team leader offensively.
"Last game, we didn't have enough energy on the defensive end, and coach really emphasized that before the game," Hawkins said. "I talked to the guards before the game to try to pump them up. I try to have unbelievable energy to get everyone to feed off of my energy and play hard. As long as we pressure and force turnovers and force bad shots, it helps us run. We are starting to understand that more. Against Pittsburg State, we didn't have enough energy on the defensive end, which didn't allow us to run as much. Everyone was active tonight. Even the big men got out and ran."
Freshman Brandon Rush, a better defender than advertised, left no question as to the team leader on the defensive end.
"I just really felt energy today because Hawk was everywhere," Rush said.
Copyright 2018 The Lawrence Journal-World. All rights reserved. This material may not be published, broadcast, rewritten or redistributed. We strive to uphold our values for every story published.