Renovations to Allen Fieldhouse have not ruined the building's mystique for many Kansas University men's basketball fans.
"They freshened it up," KU fan Sharon Buscher said before the Jayhawks opened their season with a 90-66 victory over Idaho State. "It's the same, but it's fresher. It's like a face-lift."
Before and during the Jayhawks' victory, fans talked about the new paint on the seats, the new floor, the new overhead scoreboard that features a videoboard and brighter lights over the court.
KU associate athletic director Jim Marchiony said Friday afternoon that improvements inside the fieldhouse totaled about $10 million, which does not include the Hall of Athletics still under construction. The Ward family of Russell Stover Candies and several anonymous individuals donated for the improvements.
Marchiony said most feedback he had received fell in line with what the department wanted to accomplish with the improvements.
"They see an upgrade at Allen Fieldhouse without taking away the aura of Allen Fieldhouse," he said.
Many fans noticed the brighter lights.
Photo Gallery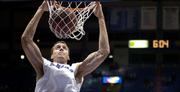 KU vs. Idaho State
"It feels like it's the same old fieldhouse, but I can see better," said Bill Winter, of Lenexa and a 1985 KU graduate.
Operating the new equipment and features inside came with something of a learning curve, Marchiony said. During Monday's exhibition game, problems with the ventilation system made it a little toasty inside.
Fans Friday night said it was much cooler than Monday night.
By 4 p.m. Friday, cool air cranked through an empty fieldhouse. A digital thermometer used by the Journal-World measured temperatures between 67 and 68 degrees from the upper rows to court level.
Hours later, as eager fans began to file in, the temperature began to rise. At tipoff, the top row, on the east side in section 7, which is near windows, hit 70 degrees.
Halfway through the first half, the thermometer read 74.3 degrees at court level when fans cheered wildly as Lawrence product and KU senior Stephen Vinson checked in.
As KU sophomore Sasha Kaun scored and was fouled with 12:56 to play in the second half, the temperature jumped from 75.1 degrees to 75.4 degrees as the crowd erupted.
Overall, most fans gave praise to the new lights and videoboard.
"It's not orange anymore in here. It's white," said Brett Hunter, of Kansas City, Kan., and a 2002 KU graduate.
"It's definitely enhanced," said Rachel Forshee, a 2005 KU graduate from Lebanon, Mo. "It's a little more professional now."
During halftime, KU junior Ben Arnold, of Olathe, took a break from standing up and cheering in the student section and said he enjoyed the instant replays on the new videoboard.
"I think it can energize the crowd with replays and the new speaker system," he said.
One fan first came to a game in 1956, and he described the fieldhouse as special back then.
"That's definitely different. It's brightens the place up," said Jim Goentzel, of Wichita.
Another fan hoped the newer features would translate to results on the court.
"Maybe this will let us go undefeated this year," said Dave Queen, of Olathe, who sat next to his son Michael on Friday in the fieldhouse's northeast corner.
Copyright 2018 The Lawrence Journal-World. All rights reserved. This material may not be published, broadcast, rewritten or redistributed. We strive to uphold our values for every story published.