BTK didn't just kill people.
Wichita serial killer Dennis Rader admitted to police that before he ever started strangling humans, he killed dogs and cats, according to court records. That aspect of Rader's case - combined with the public outcry about the torture of a puppy found burned and bound with wires in Wichita - has lent new momentum this year to efforts to pass a felony animal-cruelty law in Kansas.
"There's been an awful lot of public expression of concern," said Patrick Hurley, a lobbyist hired by the nonprofit group Humane Kansas Legislative Network to build support for the law. "The bottom line is we want to make the really serious acts felonies, with some mandatory time" behind bars.
Kansas is one of nine states that has no felony animal-cruelty law. The crime is always a misdemeanor, no matter how heinous the act.
Hurley said he expected several bills on the subject to be introduced in the legislative session.
Sen. David Haley, D-Kansas City, has tried but failed every year since the late 1990s to pass a felony animal-cruelty law in response to the torture of a dog named "Scruffy" in Kansas City in 1997. He has said publicly he plans to introduce the proposal again in January.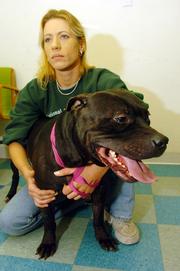 Momentum on the issue grew in August when a black Labrador puppy nicknamed "Magnum" was found in Wichita covered with chemical burns and with its paws bound with wire. Other dogs with similar injuries were found in the days afterward.
Midge Grinstead, executive director of the Lawrence Humane Society, said she would like to see a felony law that targets repeat cruelty-to-animals offenders - those who are found again with large numbers of malnourished dogs in their homes. In those cases, she said, the dogs often are kept for fighting.
"It's frustrating. They're repeating it over and over again, because there's no jail time. They haven't paid the fine, they haven't paid me," she said. "There's just no teeth to it."
Fighting dogs under Kansas law is a felony, but it's difficult to prove. Grinstead said her agency has not uncovered any clear-cut dog-fighting cases in recent years, but she believes it's common.
"We're not catching them in the act," she said. "But we're catching the dogs with wounds and with scarring."
Copyright 2018 The Lawrence Journal-World. All rights reserved. This material may not be published, broadcast, rewritten or redistributed. We strive to uphold our values for every story published.