Whooping cough cases have soared more than tenfold in Kansas so far this year compared with 2003, killing one young child and infecting people in 54 Kansas counties, health officials said Wednesday.
In Douglas County, the increase has been even more dramatic.
There were no cases of whooping cough from 2000 to 2003; then 11 in 2004 and 19 confirmed so far in 2005, officials said.
"It's a serious concern," said Sheryl Tirol-Goodwin, a spokeswoman for the Lawrence-Douglas County Health Department.
She said the department has contacted school nurses to urge students to practice sound hygiene, such as washing hands and not sharing eating utensils or drinks.
She said health officials are stumped as to the reason for the increase, but noted that whooping cough, or pertusis, is extremely contagious, and the number of cases jumps when school starts.
"It's mainly when kids are back in school and sharing items," she said.
The state's outbreak of whooping cough began at the end of last year and has continued through all of this year, said state epidemiologist Gail Hansen.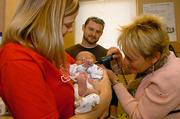 Kansas had 44 whooping cough cases in 2003, according to the Kansas Department of Health and Environment. Last year, the number of cases reached 250, and so far this year 465 cases have been reported, including a young child who died this summer. The numbers reflect confirmed and probable cases reported as of Tuesday.
"There isn't any commonality we have found with people," Hansen said.
Five Kansas counties - Douglas, Johnson, Kiowa, Reno and Sedgwick - have had 51 percent of the cases, according to KDHE statistics.
Whooping cough is a highly contagious respiratory disease often characterized by the signature "whoop" heard when a person struggles to breathe. The disease can cause weeks of misery for adults, but it is especially dangerous to infants not yet fully immunized.
The number of confirmed cases kept by Kansas regulators is even higher than those reported for the state by the National Foundation for Infectious Diseases, in part because Kansas continually updates its database, Hansen said.
"That is a big spike," said Dr. William Schaffner, Vanderbilt University Medical Center chairman and a vaccine specialist for the National Foundation for Infectious Diseases.
Whooping cough outbreaks are spotty and do not affect all parts of the country simultaneously, Schaffner said.
"Whooping cough is always a cyclical disease," he said. "There would be more cases some years than others in great big cycles."
Health officials are recommending children not delay getting their pertussis vaccines from the childhood immunization schedule. Adolescents due for a tetanus booster should also get the combined vaccines with the added pertussis protection.
Protection from childhood immunizations wane as the children age, but two new vaccines are now available to protect teenagers and adults, health officials say. They urge adults who work or live around infants get the new vaccinations, creating a "cocoon of protection" around vulnerable infants.
"The notion of having any child in the United States in the 21st century die of whooping cough is very troubling," Schaffner said. "We have to be aggressive in preventing these deaths."
Nationwide, whooping cough is at a 45-year high with about 26,000 cases in 2004. Some suspect the increase may be due to more accurate diagnosing.
Whooping cough's initial symptoms - low fever, runny nose and cough - are the same as a cold, allergies or bronchitis.
"It is sometimes misdiagnosed as one of so many respiratory illnesses we see this time of year," said Sharon Watson, a spokeswoman for KDHE. "This adds to the problem because many people are getting it and giving it when they don't realize it."
Copyright 2018 The Lawrence Journal-World. All rights reserved. This material may not be published, broadcast, rewritten or redistributed. We strive to uphold our values for every story published.