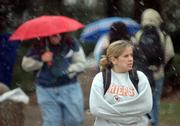 Lawrence got its first sampling of the approaching winter season Tuesday, thanks to a weather system that brought a mixture of snow, rain and wind gusts of more than 40 miles per hour.
Overnight the temperature was expected to drop into the upper teens, 6News meteorologist Matt Sayers said.
Rain fell Tuesday morning but showers at times gave way to big wet snowflakes. The snow by itself wasn't measurable, but Lawrence received .36 inches of precipitation, Sayers said.
"We had a few snowflakes and sprinkles throughout the afternoon but that was about it," he said.
Measurable amounts of snow were recorded in north-central Kansas, where Courtland received 2.5 inches, according to the National Weather Service in Topeka. Several towns in that area received an inch of snow, including Concordia and Centralia, meteorologist Kris Craven said.
Winter Weather
Winter weather information
Winds blasted throughout the state, including a 47 mph wind gust recorded in Lawrence, Sayers said.
The sun will shine today and temperatures will warm into the 40s through Thursday, Sayers predicted.
Last year Lawrence received its first significant snowfall on Nov. 24, when 4 inches fell, Sayers said.
Copyright 2017 The Lawrence Journal-World. All rights reserved. This material may not be published, broadcast, rewritten or redistributed. We strive to uphold our values for every story published.