Darnell Jackson's NCAA eligibility remains in limbo, and based on his Monday night exhibition performance, the Kansas University basketball team will miss him if he's suspended for any length of time.
Sources said Jackson's eligibility issue was not related to academics.
KU officials issued a "no comment" when asked if it was an extra-benefits issue and would not comment on whether Jackson faced a possible suspension. Jackson was cleared by the NCAA to play in Monday's game, but when asked if that meant the issue was over, coach Bill Self indicated otherwise.
"That issue was done for today, and we hope to be able to have closure to it in the next 48 hours, where we'll know exactly where it stands," said Self, who added he was cleared for the day about 31/2 hours before tipoff. "We were told he could play today, which is a good sign. We've still got to get word back officially on the final verdict on exactly what the situation is."
On the court, Jackson, a muscular 6-foot-8 sophomore power forward from Oklahoma City, totaled eight points and seven rebounds in 17 minutes off the bench in KU's 73-47 victory over Division II Pittsburg State.
Photo Gallery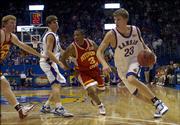 KU v Pittsburg State
"Darnell's been as good as anybody the past three to four weeks," Self said. "It's unfortunate that we are dealing with this issue, but we are hoping that it will come to a permanent resolution here soon."
Jackson, requested by the media to come to the postgame interview area, was unavailable for comment. C.J. Giles and Jeff Hawkins were the only players brought to the room.
Giles, comparing Jackson's play this year to last, said: "He's improved so much. He's really gotten a lot more confident. ... He's basically a football player on the floor. He'll run you over practically. I guess that's his way of making us better."
Copyright 2017 The Lawrence Journal-World. All rights reserved. This material may not be published, broadcast, rewritten or redistributed. We strive to uphold our values for every story published.