He'll have to erupt for similar performances against Arizona, Kentucky, Nevada, Texas and Oklahoma before comparisons will be taken seriously.
But after two exhibition games, Kansas University sophomore C.J. Giles at the very least looks like a strong candidate to replace the departed Wayne Simien's 20 points and 11 rebounds a game.
"Uh, yeah," KU guard Jeff Hawkins said with a grin Monday night, asked if he thought the 6-foot-10 Giles -- who scored 24 points and grabbed seven rebounds in the Jayhawks' 73-47 home rout of Pittsburg State -- could be another Simien.
"When he can stretch the defense like that ... he's long, can block shots, can run, can do a lot of things. He's probably our best shooter, even as a big man."
The lanky Giles had two vicious blocks of Pitt State shots and an array of dunks and also connected on more than one occasion from the outside, just as Simien did a year ago.
Photo Gallery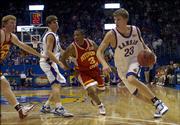 KU v Pittsburg State
Giles hit eight of 10 shots and eight of 10 free throws in 16 foul-plagued minutes, then grinned when asked if he made a statement to "become the next Simien."
"Sasha could be the next Simien, Darnell, anybody," Giles said of Sasha Kaun and Darnell Jackson, who had seven and eight points. "I think something like 14 points and 11 rebounds would be very possible. I'm going to do as much as I can. If it's not scoring, I'm going to get rebounds and do whatever it takes for us to win."
Giles, who had 10 points and five rebounds in KU's exhibition opener against Fort Hays State, showed more athleticism than Simien in blasting the shots of Jeremy Richardson and Edward Morris into the third row.
"He was a beast down there tonight," Hawkins said of Giles, who scored eight straight points in the late going, two off a feed from Kaun, two on a stickback slam, two more via a slam off a lob from Mario Chalmers, plus two free throws.
"He came ready to play. I watched him before the game. He was out getting shots. He seemed really focused and showed it in the game."
Giles hit the court early to shoot with Hawkins, something not normally in his routine.
"I was pumped before the game," Giles said. "I know I was confident tonight. I was confident after watching Darnell. He's very confident in everything he does at practice," he added of Jackson, who with an NCAA eligibility issue cleared for one night, at least, grabbed seven boards.
How far can Giles drift outside for his shot?
"I don't know. I'll just stay at 15 feet for now," Giles said.
KU coach Bill Self -- who was not thrilled at KU's energy level on a night the Jayhawks hit 44.6 percent of their shots and four of 18 threes -- was pleased with Giles' effort -- when the big man wasn't fouling. He finished with three whistles.
"He can run," Self said. "Twenty-four in 16 minutes ... we didn't go to our big guys near enough. It's very evident he needs to stay out of foul trouble."
Giles was the only Jayhawk to score in double figures.
Go figure
8-10 Field-goal and free-throw shooting by KU's C.J. Giles 16.7 KU's first-half three-point shooting percentage (2-for-12) 57.1 Pitt State's first-half three-point shooting percentage (4-for-7) 6:24 PSU's assist-to-turnover ratio 19:17 Kansas' assist-to-turnover ratio
KU managed just 32 points the second half after building a 41-26 halftime margin.
"Sometimes we don't shoot well, and you have to grind some things out," Self said. "We didn't have any energy tonight compared to the other night ... none. Our perimeter didn't create any havoc and energy. We played like a tired team, which we may be, and that might be my fault because we've been practicing really long the past four days."
It wasn't all being tired, said the coach, whose squad held a single-digit lead until Brandon Rush dunked off a Russell Robinson feed, making it 25-15, with 9:31 left in the half.
"The reason we didn't score," the coach said, "is we aren't patient enough to score. We would just hold the ball, but when we move and pass it, we can score pretty well. Tonight we looked very stale offensively."
Rush had just five points off 2-of-6 shooting, while Hawkins had six, Chalmers five. Julian Wright contributed eight points in 17 minutes.
"The biggest thing I saw is that we would foul and we looked slow," Self said. "We would put our hands on them, and we just fouled way too much. We fouled on plays that did not even matter. That is frustrating and gives them easy points."
Yet as far as the victory, it didn't much matter. KU led by 22 points (48-26) with 15:43 left and never looked back.
"As a whole, we have to get a lot more sound, faster and bring more energy to compete against the teams that are going to be on our schedule early in the season," Self said.
KU will meet Idaho State in the season opener at 7 p.m. Friday at Allen Fieldhouse.
Copyright 2018 The Lawrence Journal-World. All rights reserved. This material may not be published, broadcast, rewritten or redistributed. We strive to uphold our values for every story published.