Mike Treanor wants to bring downtown's pedestrian-friendly patterns, public parks and active nightlife to a 43-acre cornfield in the heart of Lawrence's suburbia.
His Bauer Farm project would be the city's largest example yet of "new urbanism," a concept that seeks to build old-time design principles into the latest construction projects.
Picture on-street parking, small front yards, raised front porches and garages on alleys out back, Treanor said. All along the north side of Sixth Street, from Wakarusa Drive to Folks Road.
"This would not be gated," Treanor, of Lawrence, told about 100 Rotarians and their guests gathered for a luncheon Monday at Hereford House. "It's not one, homogenous $300,000 or $400,000-(per-home) subdivision. It's based on having affordable, elderly and market-rate offerings right in there."
And much more.
Treanor, principal of Treanor Architects and a co-owner of the Bauer Farm project, envisions a development that stretches well beyond its planned 200 or so residential units: townhomes along Sixth Street, single-family units in the middle and four- or six-unit "mansion homes" along the site's northern boundary, Overland Drive.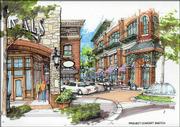 The project also calls for small playgrounds, professional offices, retail shops and - on three acres of donated land at its center - a 33,000-square-foot Lawrence Community Theatre. All would be included in the fabric of the new neighborhood, one that wouldn't be afraid to embrace Free State High School to the north, heavy traffic along Sixth Street to the south and all the strip retail centers that await within walking distance.
By design, Bauer Farm would make room for cars but encourage people to get out and walk, he said. Townhomes actually would face Sixth Street, and the site would include paths connected to Sixth so that residents and visitors could walk to the Dillons grocery store, Marisco's restaurant or dozens of other businesses nearby.
"It quiets the traffic, and it creates a sense of place," Treanor said, explaining "traditional neighborhood development" ideas that resemble areas of East Lawrence and Old West Lawrence neighborhoods near downtown. "You're part of the community instead of turning your back on it."
Treanor has been working on the project for three years, hoping to convince city officials that his vision - like those of "new urbanism" experts elsewhere - is worth embracing. His presentation to Rotary followed an earlier talk by Sue Hack, a Lawrence city commissioner, and Marguerite Ermeling, a Lawrence-Douglas County planning commissioner.
Developer Bo Harris, owner of the Hobbs-Taylor Lofts project downtown, will discuss his "new urbanism" visions in two weeks.
Ted Haggart, president of Douglas County Bank, is sold on the concept. The bank moved into the neighborhood nearly two years ago by opening a branch at the northeast corner of Sixth Street and Folks Road - just south of Briarwood, another "new urbanism" project that mixes small front yards, prominent front porches and garages off alleys.
Haggart doesn't see any problem expanding the city's development options to bring some traditional forms back into favor.
"There's room for variety," said Haggart, who attended the luncheon.
Copyright 2018 The Lawrence Journal-World. All rights reserved. This material may not be published, broadcast, rewritten or redistributed. We strive to uphold our values for every story published.