By month's end, Lawrence school leaders expect to adopt policies for dealing with students who use alcohol before or during school-sponsored dances.
"It's pretty much a no-brainer," said Matt Brungardt, Lawrence High School assistant principal. "You're going to be tested, and if you've been drinking, you're going to get caught and there are going to be consequences."
Brungardt said that he doubted few - if any - students would want to risk getting caught.
"Let's put it this way, I don't see why they'd take the risk," he said. "And I don't think they will."
School officials began drafting the new policy after fielding reports of some students appearing intoxicated during the Free State High School's Firestarter Dance in late August.
Initially, plans called for the school board adopting the policy during its Nov. 14 meeting. But school officials postponed the "second reading" to Nov. 28 to give the Free State Site Council time to review the proposal.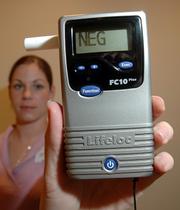 "We want all the site councils to weigh in on it," said Rick Gammill, the school district's director of special operations and chairman of the committee that drafted the policy.
At Free State, the site council wants to hear from the students. "We've asked them - the student council -for their input," said council chairman Milton Scott.
"We've been talking about it, we have some questions," said Free State High School student body president Spencer Lott. The student council, he said, welcomes the discussion.
"High school drinking is not a new problem," he said. "It's great to see the community, administrators and site councils finally come together so we can have a policy that's uniform across town. Hopefully, we can decrease the amount of student drinking."
Lawrence High School's site council already has approved the policy.
Under the proposed policy, all students at all dances will be subject to two forms of testing.
Before entering the dance, each student will be required to blow on a hand-held monitor that will detect the presence of alcohol. Those who test positive will be given a breath-alcohol test to measure the level of alcohol.
The first test takes only 10 seconds, the second tests takes 20 to 30 seconds.
The breath-alcohol tests will be given in settings that ensure the student's privacy.
Those who have been drinking will be banned from school-sponsored dances for a calendar year. Also, they may be suspended or expelled from school.
"How much they've been drinking and whether they're drunk is irrelevant," Gammill said. "If you've been drinking, don't come to the dance. It's that simple."
Parents of students who've been drinking will be called and asked to come get their child. If parents cannot be reached or cannot leave work, the school's administrator will assume responsibility for ensuring the student returns home.
Other adult relatives - aunts, uncles, grandparents - may be called.
"The main thing is we're not going to let them drive home," Gammill said.
If approved Nov. 28, the new policy would likely take effect at the start of the spring semester.
"We'll need a little time to get all our security personnel trained on the new equipment," Gammill said.
Currently, students are not subject to testing at the dances.
LHS and FSHS each host eight or nine dances a year, including their respective proms in May.
Since the August complaints, school officials have added extra security at the dances.
"We've had a couple dances since then, and there hasn't been a problem," Gammill said. "We've had a lot parents show up, which is good."
Copyright 2018 The Lawrence Journal-World. All rights reserved. This material may not be published, broadcast, rewritten or redistributed. We strive to uphold our values for every story published.