Booking a flight home for the holidays not only will cost you more this season, but seats also are filling up faster than usual, area travel experts say.
The difficulty in finding an affordable trip, or even landing a ticket at all, can be attributed to the same economic forces that have been pulling airlines down for months. Agents say:
¢ Record jet fuel prices are draining airlines' revenues.
¢ Massive financial losses have triggered airlines to cut routes, especially in the more-affordable early mornings and late nights.
¢ Even as airlines are putting fewer planes in the air, more people are flying this year than ever before.
Add it all up and it's the consumer who pays the unprecedented price, both in cost and convenience, as Thanksgiving and the winter holidays approach.
"Where people go wrong is: In the past, you were able to wait until the last minute for special holiday fares, but I haven't seen any," said Pamela Sublette, a certified travel consultant for AAA in Lawrence, who has been booking flights for people for more than two decades. "I mean, I haven't seen any. This is unusual. :
"I'm also telling people: 'We cannot guarantee airfares unless you're ticketed.' You get a fare, and then 30 minutes later it can go up $100."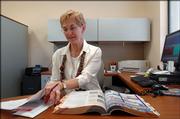 Sublette's advice to consumers in a holding pattern: "Whatever they see, they'd better grab."
But all hope is not lost, said Anne Walters, general manager for Carlson Wagonlit Travel in Lawrence.
Travelers can cut costs by exploring alternative airports for flights: Try Midway instead of O'Hare in Chicago, or opt for Baltimore Washington International Airport in Maryland instead of Reagan National Airport at the outskirts of Washington, D.C.
Better yet, she said, consider flying earlier in the morning, leaving later at night or even moving up or putting off trips for a while longer to avoid peak travel days.
Walters recently booked a round trip from Kansas City to San Diego for $218.40, by leaving the Friday after Thanksgiving and returning Dec. 4. The same trip leaving a day before Thanksgiving and returning the Sunday afterward would have cost $524.21 - if such a seat could even be found.
For trips around the Christmas holiday - leaving the Thursday or Friday before, then departing the Monday after - also are commanding premium prices, she said. Many travelers already had snapped up bargain tickets months ago, leaving late-comers to scramble for an ever-shrinking supply of available seats.
Throw in the effects of high fuel costs and airlines struggling to reverse their losses, and perhaps it's no surprise that prospects for affordable air travel aren't exactly cheerful.
"We're all going to pay more," said Walters, who has spent more than 25 years in the travel industry. "We all pay more at the pump, and we'll pay more at the ticket counter. They're just trying to stay in business."
Copyright 2018 The Lawrence Journal-World. All rights reserved. This material may not be published, broadcast, rewritten or redistributed. We strive to uphold our values for every story published.