Bill Self kept it simple in choosing the starting lineups for Kansas University's Late Night in the Phog intrasquad basketball scrimmage Oct. 14 at Allen Fieldhouse.
"We flipped a coin," Self, KU's third-year coach, revealed Monday.
Still far from settling on a regular unit, Self could employ a similar tactic Wednesday when tapping the opening five for KU's exhibition opener against Fort Hays State. Tipoff is 7 p.m. at Allen Fieldhouse.
"Yeah," Self said, "(but) I told the guys all along we'll start the guys who have worked the hardest and played the most consistently the best. It may be a little surprise to you, but that's been the nugget I've put out there for everybody."
Shooting guard Russell Robinson and forward C.J. Giles may have worked hard enough at training camp the past three weeks to guarantee starting spots Wednesday.
"I think Russell has been the best perimeter player and C.J. the best inside guy," Self said, noting they had a "great" chance to open the game.
"(Robinson) has been a machine for us," Self said. "Not that he's shot it unbelievably great. He's shot it good. Not that he takes unbelievable care of the ball, but he's much improved. The bottom line is for a young guy he 'gets it' pretty good.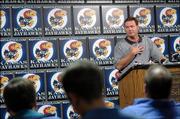 "C.J. 'gets it' pretty good, too," Self added. "He hasn't scratched the surface of what he can become. He's so long and athletic, and offensively he's improved."
Self also hinted freshman point guard Mario Chalmers might get the opening call.
'"Hawk' has been the best," Self said of senior Jeff Hawkins. "The last 10 days, Mario has been the best. His basketball IQ is pretty high. It's amazing how much he's learned in the last two weeks."
Self said he also was impressed with KU's other three freshmen -- Micah Downs, Brandon Rush and Julian Wright.
"One reason the freshmen have endeared themselves to them (returning players) is, the freshmen are unselfish," Self said, adding, "they don't think 'me,' they think 'we.' They have not been cocky at all about the attention they are getting."
Self said a modest Rush actually was relieved to lose the coin flip for a starting spot at Late Night.
"Because he was so nervous," Self said.
The coach said Rush still was a "treat to be around."
"Even though he has high expectations, he is still going through what all freshmen go through," Self added.
Self also lauded his sophomore class of Giles, Robinson, Sasha Kaun, Darnell Jackson and (red-shirt) Jeremy Case. Sophomore transfer Rodrick Stewart is ineligible to play until the end of first semester.
"Every one of our sophomores has gotten pretty good. They have improved a bunch," Self said. "They've tasted what it's like to sit on the bench. Now it's, 'Hey, we're not going to let any freshmen get our spot now.' They want to be impact players at Kansas."
Basically, Self didn't rule out anybody except Stewart for a starting slot for Wednesday's game.
"Some guys might be disappointed. I think everybody has to earn it," said Self, who indicated he wouldn't choose his exhibition-game starters until after shoot-around on game day. "We're not trying to win the battle. We're trying to win something bigger than that.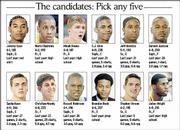 "One thing I will warn you: Don't get hung up on who starts. You could write an article every game on who is starting. It's going to change. Last year would be a big deal if somebody didn't start. This year, don't get hung up on that. We may change starters cause a guy is late to class or this is a better matchup. They are all about even to me."
The players don't seem to be stressing about it.
"It's so up in the air," Robinson said. "He's just leaving room for everyone. We probably won't know until tipoff. We've got a lot of depth on this team."
"I'm not really worried about the lineup really, just trying to work hard, and hopefully good things will come if you work hard," Hawkins noted. "I think that's what everybody else is thinking."
¢ Not in trouble: Self said Hawkins' role on the team was not jeopardized by last week's revelation the player had signed a diversion agreement in municipal court after being charged for using a stolen parking pass.
"(He's not in) the doghouse at all because I was aware of it," Self said of the initial situation. "I will tell you I was very disappointed his coach didn't know about the end result. I didn't know about him going to municipal court and signing that.
"To me, I can handle anything when I know about it. To be surprised when the media (Journal-World) contacts you doesn't put you in the doghouse, but it is certainly disappointing."
Hawkins said: "That was all in the past. I'm not worried about that. All this was settled in July. It all just came out. If anything, he was mad I didn't tell him I did it all before."
¢ Injury update: C.J. Giles has been wearing a pad to protect his bruised right shin, which caused him to miss a week of practice.
"It's good," Giles said of the shin. "I don't want to play it like I did last year with my foot. I tried to play on it, and it made it worse and it turned into six weeks."
¢ Red shirts: Self was asked if he'd red-shirt anybody this season: "I'd say right now, no, but who knows what will happen?"
Copyright 2018 The Lawrence Journal-World. All rights reserved. This material may not be published, broadcast, rewritten or redistributed. We strive to uphold our values for every story published.