The pursuit of a 27th state title for tradition-rich Lawrence High football never looked more promising than Friday night at Haskell Stadium, where a typical Lions team effort left Blue Valley Northwest without a chance to compete.
Six different players scored for LHS in a 40-6 blowout victory in the first round of the Class 6A playoffs.
The Lions (9-1) advanced to the state quarterfinals, where they will meet Olathe South (9-1), the only team to beat them this year, Friday at the Olathe District Activities Center. O. South won the first meeting, 14-0, in Week 6 at Haskell.
"They're a great, great group," LHS coach Dirk Wedd said of his victorious Lions. "There are not very many people in the world who love going to work every day. But this group caused us to look forward to three o'clock every day."
Lawrence High's aggressive, physical offensive line established dominance early, and the Lions' gifted backs took advantage.
Nolan Kellerman opened the scoring with a 42-yard touchdown run with 2:48 remaining in the first quarter when he broke to the outside and went untouched down the right sideline.
Matt Stiles was next on the scoreboard when he took a quick-hit handoff 35 yards into the end zone for the 14-0 lead.
Photo Gallery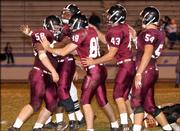 Lawrence High vs. Blue Valley Northwest 11-04-05
After that, Lions senior quarterback Brian Heere, a Houdini with the football in his hands (or is it in someone else's?), torched the Huskies with his right arm and legs, his deception and his speed.
Heere sprinted 64 yards on a quarterback keeper with 7:10 left in the first half for the 21-0 advantage.
Less than two minutes later, Heere struck via the air (Lawrence's only pass of the night), connecting on a 41-yard, play-action touchdown pass to a wide-open Brandon Lassiter for the commanding four-touchdown advantage.
"They're a big physical football team. I was very concerned with how physical they were coming into the contest," Wedd said. "But we matched them blow for blow."
And then some.
This was no pushover the Lions devoured in the pleasant autumn chill at historic Haskell Stadium, a beautiful venue, warts and all, for a high school football game.
The Huskies had allowed an average of 47 rushing yards per game. Nolan Kellerman, who left the game 30 seconds into the second quarter because of a strained ACL in his left knee, more than doubled that himself. By halftime, the Lions had rushed for 253 yards.
Kellerman suffered the injury on an option pitch he took 22 yards down the sideline, but as he was going out of bounds, a Blue Valley defender pulled him down, stretching out his left leg underneath him.
After getting taped up, Kellerman reentered for one defensive play before halftime, but he did not return after intermission.
After the game, Wedd said he was hopeful Kellerman would be ready to go for next week.
"He strained his ACL," Wedd said. "They thought they could put it in a brace. We'll check again today, but he might be able to play."
At the half, LHS held a 294-66 advantage in total yards, and the intermission did nothing to alter the course of the game.
The Lions' defense forced the Huskies to a three-and-out series on their opening drive of the second half, and LHS slammed the door shut with an eight-play, 66-yard drive capped off by Marc Albers' two-yard plunge.
LHS backup running back Tyler Hunt concluded the Lions' big offensive outing and increased the LHS advantage to 40-0 with a 12-yard run with eight and half minutes to go in the fourth quarter.
The Huskies recorded their only score late in the game when several Lions backups were on the field. BVNW backup quarterback Lance Serbousek connected with tight end Scott Storm for a 27-yard touchdown pass.
- 6Sports reporter D.J. Whetter contributed to this report.
Copyright 2018 The Lawrence Journal-World. All rights reserved. This material may not be published, broadcast, rewritten or redistributed. We strive to uphold our values for every story published.