Ted Kooser doesn't want readers to think too hard about his poems.
"Anyone can write a poem that is impossible to understand," he says. "It is very difficult to write a poem that a lot of people will take meaning from."
And yet that's what Kooser has focused on for more than 35 years.
When he was selected as the U.S. poet laureate in 2004, the Nebraska resident was the first person in that position from the Midwest.
Some say Kooser has a Midwestern sensibility to his poetry. He says it's more like common sense - without the geographical boundaries.
"I've heard people say we have a different ethos out here," Kooser says. "But I have always written about things around me and in front of me and under my nose and so on.
"So if I had grown up living in New Jersey, I suppose I'd be considered a New Jersey writer. I don't know that being located out here really makes a whole lot of difference, other than I write about Iowa and Nebraska, which are the only places I've lived."
Kooser, who spends much of his time these days on the road promoting both his poetry and poetry in general, comes to Kansas University on Thursday for a pair of free public events. He'll participate in a panel discussion on poetry at 4 p.m. in the Kansas Room of the Kansas Union, then read his own works at 8 p.m. in Woodruff Auditorium.
Not 'exotic'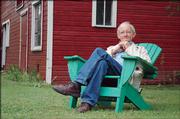 When Kooser, 66, was selected by the librarian of Congress last year, he bucked a long tradition of poet laureates being from the coasts.
He was appointed to a second term in April, the same week he received the Pulitzer Prize for poetry for his book, "Delights and Shadows."
Kooser was born in Ames, Iowa, and now lives in the country near Garland, Neb. He's a former vice president of Lincoln Benefit Life insurance group who now is a professor at the University of Nebraska at Lincoln.
He has published 11 books of poetry and one nonfiction book.
"With this poet laureate, the librarian of Congress wanted to get off the coasts and get to the center of the country," says Michael Johnson, a KU English professor. "(Kooser) is pretty centered - not only personally, but in his work - on the Midwest. That makes him more one of us."
And that, Johnson says, means there's something in Kooser's poetry for everyone.
"It is accessible and well-crafted, and it's geared toward people in this part of the country," Johnson says. "He writes about farms and daily life ...
"Even on the surface it works. That's the trick. His poetry always gives you something on the first read. He doesn't want to lead you off to someplace exotic. He wants to hold your eyes on something until you see it anew."
Poetry in spotlight
Keeping poetry accessible is a theme during the one-on-one weekly meetings Kooser has with his 13 graduate students. It's also a theme as he tours the country, giving lectures and readings.
His responsibilities as poet laureate include speaking twice a year at the Library of Congress, administering a fellowship program and organizing other poetry-related events at the library throughout the year.
"It draws attention to the fact there's poetry being written in the country, and a lot of it," Kooser says. "And it should, ideally, help people be aware of all the poetry around them, poets in their areas and so on. It isn't all about me."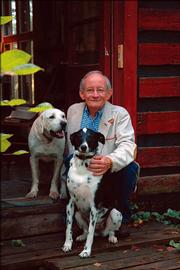 Even with his busy speaking and teaching schedule, Kooser begins his days early by writing. On Thursday, for example, he awoke at a Cedar Rapids, Iowa, hotel room and wrote from 4:30 a.m. to 7 a.m. He was scheduled to speak with college students later in the day.
"When I sit down to write in the morning, I don't know whether I'm going to be writing prose or poetry," he says. "I just begin to write and see what happens. Sometimes it drifts off to being poetry, sometimes short prose. I sort of kind of follow it and see where it's going. The process is pretty much the same. It's sitting there with your notebook, waiting for something to happen."
He works hard to streamline his writing, cutting extraneous words.
"I don't like any spare parts," he says. "If you build a lawnmower, you don't want any extra belts and gears in there that weigh it down and also are subject to causing problems. So you try to leave out everything in a poem that isn't really necessary."
Kooser, whose time as poet laureate expires in April, says he thinks poetry is a healthy literary form in the United States. He points to the variety of poetry being written - from cowboy to hip-hop to spoken word to poetry slams - to prove his point.
And he says good work is being turned out by people of all walks of life - and not just by well-known poets such as himself. As far as how good, local poets can hit the big-time, Kooser says there's no key to it.
"Frankly, I think a lot of it is just dumb luck, being at the right place at the right time," he says. "I've had lots of luck in my life. There are plenty of poets who are writing every bit as well as I am, who haven't had nearly the recognition, just because of circumstance."
Ted Kooser in Town
Ted Kooser, poet laureate for the United States, will participate in two public events Thursday at Kansas University. He will participate in a panel discussion on poetry at 4 p.m. in the Kansas Room of the Kansas Union. Other panelists will be Kansas City poet Stanley Banks and John Mark Eberhart, literary writer for the Kansas City Star. He then will read his own works at 8 p.m. that night in Woodruff Auditorium, also in the Kansas Union. Both events are free.
Copyright 2018 The Lawrence Journal-World. All rights reserved. This material may not be published, broadcast, rewritten or redistributed. We strive to uphold our values for every story published.