Brian Bracciano has been listening to Aaron Ideus shout commands on the soccer field since they played club soccer together in sixth grade.
Now that the two are teammates at Free State High, Bracciano is used to hearing his buddy shout instructions like "you gotta get back, you gotta clear that ball" or "get it out of here" to a fellow Firebird.
"He is pretty much a yeller, that is basically all you can say," Bracciano said. "I think it is impossible for him to lose his voice."
Ideus, a defender, captain and leader on the Firebirds, might actually be hoarse after a 7 p.m. matchup tonight with Olathe East at College Boulevard Athletics Center. With their season on the line, the Firebirds must play the Sunflower League's top team.
A four-year starter, this year is Ideus' first trip to the state tournament and marks only the second time in school history that the Firebirds have competed in postseason action. Coach Jason Pendleton led his 2001 team to the playoffs.
Ideus said he wasn't nervous because the Firebirds already had achieved their goal: qualifying for the postseason.
"We don't feel any pressure because we are definitely the underdog team, and this is new territory for us," Ideus said. "No one on this team has gone this far, so this is a new thing for us. We are just looking to play hard and be as competitive as we can be."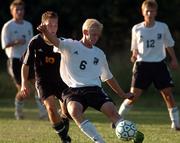 Competitiveness is Ideus' specialty. Pendleton said Ideus was the most competitive player on the team, and his desire rubbed off on his teammates.
"Aaron is definitely the vocal leader, and most of the players on the team have grown to accept his leadership, which is kind of aggressive at times. But he is not afraid to be very demanding and critical, typically in the right situation," Pendleton said.
"They understand that is just Aaron being competitive. He has these high expectations for our level of play, and if you are not playing to that capacity, he will let you know that."
The Firebirds must play to their capacity if they want to beat Olathe East (15-2-1).
"We are playing as well as we have played all season," Pendleton said. "We are not going in there expecting to lose by any means. We are expecting to go in there and play the best soccer we can play, which we are going to have to do to beat these guys."
The Firebirds (13-4-1) won their region by defeating Leavenworth and Topeka High on penalty kicks. One of their four losses this season came to Olathe East on Oct.13. The Firebirds lost that game, 3-0.
"A lot of it was our own mistakes," Ideus said. "They definitely capitalized on those. We really competed with them, but we didn't play our best game."
Perhaps the most difficult challenge the Firebird defense will be shutting down Olathe East's midfielders, led by Adam Tayani. Ideus said they were some of the most skilled, crafty players in the state.
"As a group, they are very creative, which is tough for some team," Ideus said. "They are also more athletic than we are."
Pendleton joked he would be a popular guy if the Firebirds could stifle Olathe East's midfielders.
"If I could write a plan on how to stop their midfielders I would probably have a lot of coaches contacting me to provide answers," he laughed. "Those midfielders drive their offensive machine, and, on top of being a great team, they are coached by one of the best coaches in the state in Terry Hair."
Pendleton said there was more pressure on Olathe East than on Free State.
"They are the top-ranked (team) in 6A, and they are expected to win," Pendleton said. "I am sure that deep down our guys are nervous, but there is zero pressure on us. Our only task is to play as well as we can and hopefully that will give us an opportunity to be successful."
Copyright 2018 The Lawrence Journal-World. All rights reserved. This material may not be published, broadcast, rewritten or redistributed. We strive to uphold our values for every story published.