Lawrence city officials issued their first license for building contractors Friday morning, launching a program designed to set minimum standards for experience, education and insurance coverage in the building trades.
For Lee Queen, who's been building homes in town for more than 18 years, the move couldn't come too soon.
"One of the big reasons for this is there were contractors working in this city that didn't have general liability insurance, didn't pay workman's comp(ensation) and were not credible," said Queen, vice president for Edmondson Construction Co. Inc. "They were hurting the ones that were playing fair. Most of the contractors in this town do play fair, but, like anything, a few bad apples can ruin the bunch."
With that, Queen lined up Friday to receive contractor license No. 05-00001, the first of more than 200 expected to be issued by the city's Department of Neighborhood Resources by July 1.
The new licenses cost $200, and go to building contractors, framers and concrete contractors. After July 1, such contractors won't be able to secure building permits without first getting a license.
To get a license, a contractor must have, among other things, at least five years of experience and carry adequate insurance for liability and worker's compensation.
The insurance is important, officials said, because such coverage would prevent homeowners from covering the bill for contractors' mistakes - such as a house burning down or a worker tripping over a ladder.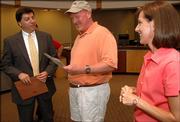 A homeowner would have to cover the losses for a contractor who didn't have insurance, and that could lead to trouble for the homeowner and the insurance company, said Tony Hoch, a project specialist for the department.
"They could cancel somebody, after that claim is paid," Hoch said. "That's not fair. It shouldn't fall on you. It should fall on the contractor."
When securing a license, contractors also commit to take eight hours of classes a year to hone their skills.
Such education not only will help contractors do their jobs better, said Victor Torres, the city's director of neighborhood resources, it also should help the department's inspectors be more efficient, because the contractors' work should be even better.
"It's a real win-win for everybody," Torres said.
The Lawrence Home Builders Assn. suggested the licensing program more than a year ago, and its representatives have worked with city officials to put together the system.
Bobbie Flory, the association's executive director, said the program would not add to the cost of homes, commercial jobs or other projects. That's because the value of the license would be returned many times over at each work site.
"With the contractor education, they will be able to be more effective and efficient," Flory said.
Queen's license application just happened to be the first one processed by city officials, who have about 25 more waiting for action.
He's looking forward to having all his fellow contractors - co-workers and competitors alike - licensed to work. That way, Queen said, his $7,000 bids on jobs no longer should be unfairly squeezed out by a less-qualified firm offering to do the work for $4,000.
"This elevates the playing field a little bit," he said. "Everybody has a minimum standard, so that when one of our homeowners in this town hires a licensed contractor, you're going to know at least that they have met the standards - that they have experience in workmanship, and general liability and workman's comp on their employees."
Copyright 2018 The Lawrence Journal-World. All rights reserved. This material may not be published, broadcast, rewritten or redistributed. We strive to uphold our values for every story published.