Stiletto heels and clogs may not be practical footwear for children.
But area quilters say they hope that fabric depictions of the shoes will help raise more money for a group that provides shoes for needy Douglas County children.
Quilters are auctioning off a quilt with images of different shoes to boost the Social Service League's shoe fund, which is used to provide new school shoes for children who need them.
"The bottom line is we're hoping to see this quilt auction off for lots of money because that means lots of shoes for kids," quilter Deb Rowden said.
The quilt will be auctioned on eBay and go up for bids Sunday through May 29. It will be on display at the Raven Bookstore, 6 E. Seventh St.
Rowden and Lawrence quilter Barbara Brackman have worked several years raising money for the new shoes program. Seventy-five children benefited this year, said Bruce Passman, executive director for student services with the school district.
"It's a great benefit for the kids who need it," he said. "It's tough for kids to start the school year with old shoes when other kids have new ones. It's great to be able to let them have those new shoes at the beginning of the year or in the middle of it, if they need them."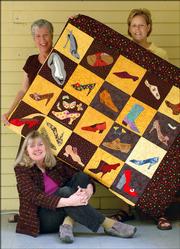 Brackman said families are referred to the program by teachers, social workers, school nurses, counselors or other school officials. Parents are given vouchers to get shoes from Payless ShoeSource. The store then bills the school district, which pays for the shoes from its special fund.
Brackman and Rowden said they hope the quilt will auction for $2,000 or more. They based the estimate after auctioning a quilt last year on eBay to benefit the Kaw Valley Quilters Guild. That quilt went for $2,000.
"We're hoping to get more with this one," Brackman said. "We were able to get some well-known quilters to make blocks or sign blocks. I think that will help. Plus, this is a one of a kind. You can't find a quilt like this one."
Among those who signed blocks are Alex Anderson, host of Home and Garden Television's "Simply Quilts," and Earlene Fowler, who writes quilt-related mystery novels. Those who created their own shoe patterns included artists Jane Sassaman, Becky Goldsmith, Judy Mathieson and Ruth McDowell.
Finding the quilt
Internet users can find the quilt being auctioned to raise money for the Lawrence school district's shoe fund by searching for "shoe fly quilt." People can donate money to the shoe fund by making a check out to USD 496 LPS Shoe Fund and sending it to the district office, 110 McDonald Drive.
Several area quilters - including Brackman and Rowden - also created blocks for the quilt.
"The work done by everyone is just great," Rowden said. "But you don't have to be a quilter to love this quilt. I'm just really excited to see how it does. We began working on this last fall. So, the auction is a great finale to all the work."
Copyright 2018 The Lawrence Journal-World. All rights reserved. This material may not be published, broadcast, rewritten or redistributed. We strive to uphold our values for every story published.