Kansas University is stronger than it has ever been in the institution's history, Chancellor Robert Hemenway said Friday.
The school has its highest enrollment ever with 29,590 students, he said. With that comes the strongest student body in history based on grade-point averages, standardized test scores and the 329 National Merit Scholars enrolled at KU.
Judging by teaching awards, the university boasts one of the most skilled faculties, Hemenway said. And the university's KU First fund-raiser brought in $653 million.
"We've created a university of superior and enduring value for Kansas and the world," Hemenway said Friday night during the 133rd All-University Supper, which drew hundreds of alumni, faculty and staff. "We have fulfilled our mission as a public university. We've provided an excellent return on the state's investment in us, and we're ready and willing to be held accountable for the results of our stewardship."
But Hemenway noted that KU officials think that their stewardship, investment return and mission deserve state support.
He also criticized the Kansas State Board of Education and its review of science standards. The position of some board members to de-emphasize evolution has put the university at odds with the board, Hemenway said.
"If we were to fail to teach such basic scientific principles, we would place Kansas students at a disadvantage in the global intellectual market place," he said. "KU and the state of Kansas must be part of the scientific discovery process that drives innovation and keeps us competitive in the world economy."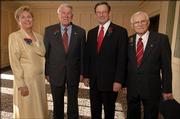 In addition to Hemenway's state of the university address, the KU Alumni Association honored three alumni and a former chancellor with Distinguished Service Citations at the dinner. The dinner is a tradition for commencement weekend at KU.
Among the honorees were Paul Adam Jr., chairman emeritus of Black & Veatch, who graduated form KU with an engineering degree in 1956.
"Maybe the thing that keeps KU alumni so closely tied to KU is not so much the institution itself, but the KU people," he said. "I'm looking forward to walking down the hill Sunday with several thousand new graduates. It's going to be pretty fun."
His first time walking down the hill, Adam said he couldn't wait to graduate from KU. He said he wanted to get on with his life and was sure some graduates now have similar feelings.
"I can tell them now looking back on it, you can't get away from KU," Adam said. "The people you meet at KU and through life and your career at KU, I think that's what creates the bond with KU."
Also honored were Forrest Hoglund, chairman of Arctic Resources Co. Ltd. and a 1956 KU graduate; Delbert Shankel, KU professor and chancellor emeritus; and American Humanics president Kala Mays Stroup, who graduated from KU with a bachelor's in 1959, a master's in 1964 and a doctorate in 1974.
Copyright 2018 The Lawrence Journal-World. All rights reserved. This material may not be published, broadcast, rewritten or redistributed. We strive to uphold our values for every story published.