St. Louis — In their stocking feet, the two 7-year-old boys raised imaginary light sabers and slid in a diagonal line across the wood floors of the Olivette home. The Jedi Knight-wannabes made "Psssh" sounds with their lips as they clashed and danced.
Just like the saber-wielding characters in "Star Wars: Episode III - Revenge of the Sith" opening nationwide Thursday.
"On TV," Nick said Thursday when asked how he first heard about the soon-to-be summer blockbuster.
Seven-year-old Nick, who was playing with a friend at his house, launched into a recitation of the movie's commercial tie-ins - to a soft drink, to a video game, to a cereal brand. The cereal contained a "SaberSpoon."
"The spoon lights up in the dark," Nick said. "I used to have a lightsaber, but it doesn't glow up anymore."
As Nick talked about why he was hoping to see the movie, his mother Paula Givens watched alternately amused and dismayed. She hadn't decided yet whether she would take him to see the movie. And like parents of other young children, she was bracing. As the movie's opening neared, Nick's begging would only intensify, she said.
The Motion Picture Association of America has rated "Star Wars Episode III" PG-13: "Parents Strongly Cautioned: Some Material May Be Inappropriate For Children Under 13." It is the first film of the George Lucas saga to earn anything stronger than the milder PG rating, "Parental Guidance Suggested."
This latest episode in the "Star Wars" saga has a darker tone than the first two (in chronological order) and is more reminiscent of "The Empire Strikes Back."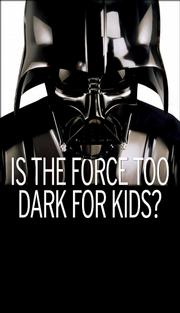 While hundreds of mechanical droids are blown into scrap iron in every episode, this one has far more human-on-human violence and the result of a duel between Obi-Wan Kenobi and Anakin Skywalker is particularly gruesome and graphic. Also, there is an implication of a heinous slaying of some young children.
A spokesperson for the MPAA had not responded by press time, to a query about why the film received the PG-13 rating.
Jane Horwitz of The Washington Post Writers Group writes "The Family Filmgoer," a resource for parents, Horwitz recently saw the film. And in a telephone interview, Horwitz said she liked it and thought the film moved along at a good, entertaining pace. But she hadn't written her review for parents.
"It is dark," Horwitz said, noting the film's struggle between good and evil, a reference to the death of parents and a climactic battle for Anakin's soul. And the movie, which runs about 2 1/2 hours, is long for young children, she said. The violence, except toward the end, is not graphic just implied, Horwitz said. But people are clearly dying, she said.
"I don't think there's anything that would scare a 10-year-old boy," said Horwitz who recommended that parents consult movie reviews and prescreen movies if they have doubts about content. "But you can't generalize.
"People need to know their kids," she added. "They need to know what their kids can handle."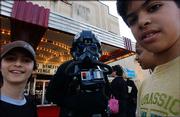 Making a parents' job harder
Sue McCollum, St. Louis, said her sons started talking about the movie about two weeks ago as she drove them home from school.
Both are under 13 and knew McCollum and her husband, Todd Epsten, would hesitate to take them to a movie with a PG-13-rating. But, the youngest one argued most strenuously, this was Star Wars.
"Brian loves superheroes," said McCollum, noting that they had had a similar discussion when "Spider-Man 2" came out. "He knew it would be an issue. We choose to be judicious about the movies we do go to."
Still the pressure's on parents, said McCollum who teaches a course on marketing the arts at Webster University.
Once upon a time, it seemed to McCollum, the pressure was on the movie studios to conform to societal standards. Now, she said, more pressure is on parents to set the limits.
"The tables have slightly turned," she said.
Not that she minds. McCollum figures it's her responsibility to set limits. Neither of her sons has mentioned the new "Star Wars" movie recently but McCollum figures it's a matter of time.
"Trust me, when the movie comes out, and people are talking about it and they see it on TV, he's going to ask," McCollum said. "It does make a parents' job harder."
In the car that day, she agreed to read up on the movie's content, talk to others who will see it and get back to her sons.
Givens will also consult other parents. Both parents said they consider sexual content, language and violence when deciding whether to let their children see a movie. They also try to give their children context for what they are watching on TV or at the movies.
"I didn't let him watch 'Power Rangers' until he was 6," Givens said of her son. "Just because he asks to go to the movies doesn't mean he gets to go."
From cereal to Pop-Tarts
Still the promotions are everywhere, Givens said. Promotions are aimed at her son, even though the movie's not recommended by the MPAA for his age group.
If the promotions weren't so pervasive, Givens said, she'd have an easier time saying no, and the begging would cease. But that under-age audience is clearly the target of many the promotional tie-ins, said Horwitz who lamented the narrowing gap between PG-13 and R-rated movies.
"It's very hypocritical," Horwitz said. "Is a 15-year-old going to buy a lightsaber? I'm sure parents find it terribly annoying. You just have to keep your pocketbook shut."
Not if the marketers have anything to do with it. For the kids, there are shelves of action figures at Target, kids' meals at Burger King and sets at Lego.
Kellogg and Lucasfilm LTD have teamed up to promote the movie and merchandise on "over 200 million product packages" - from cereal to Pop-Tarts - between April and June, a company news release said.
Kellogg spokeswoman Kimberley Goode said in response to parental concerns over promotions: "We believe that the 'Star Wars' toys and promotional items give consumer of all ages a chance to experience the excitement of 'Star Wars' regardless of whether they see the movie. At the end of the day, 'Star Wars' is the most popular film franchise in history."
Copyright 2018 The Lawrence Journal-World. All rights reserved. This material may not be published, broadcast, rewritten or redistributed. We strive to uphold our values for every story published.